– THE DEAF INSTITUTE, MANCHESTER –
Receiving a Mercury Music Prize nomination is one of the biggest and ultimate accolades a UK act can receive. Coventry-born Ghostpoet bestowed the respected roll of honour this year, for his debut album Peanut Butter Blues & Melancholy Jam. Even before the nominees were announced, GP was named as The Guardians 'New Band of The Day', toured every major festival across the globe and offered support slots for fellow MMP nominees Metronomy.
Mixing genres beyond a standard hip-hop/MC output, his debut album delivers electronic samples, dub-step beats and funk; brought down to earth with GP's lazy, addictive vocals. I've been excited for tonight's sell-out show at The Deaf Institute for weeks. PBBMJ has become standard on my playlist, since my pre-Mercury interview with him last month.
It's bloody rammed in here tonight and there's a lovely buzz around the place. I'm a big fan of the Deaf Institute as a live music venue, it's intimate without it feeling like a dingy, dark basement; and it looks pretty too.
Mr Ghostpoet arrives on stage, in casual attire, topped off with a pork pie hat. Accompanied by 2 band members, the 3 embrace for a little man huddle and bro-prayer to wish the gig well. Straight into 'Gaaasp', it's hard for GP to leave his bedroom genius roots; as he opts for a simple set up of guitarist, drummer, and self-driven sampler and laptop. He comfortably and effortlessly controls the direction and foundations of the track using his right hand to control the mixer, whilst using the other to help give us his heavy vocals.
With a brief break GP excitedly welcomes the packed crowd "Hello! Manchester, it's my first time here". A GP follower shouts "We Love you!" Next is 'Garden Path', that shows off his drowsy, accented drones as he sings "don't follow, follow me down the garden parrrrf', as he jigs slightly to the beat.
'One Twos'/ 'Run Run Run', continues to see him shift between tinkering with samples and dials to deliver powerful lyrics, without the swears. He could have simply stood there and MC'd; but like the album PBBMJ, it adds another level to what could have been a straight forward one man and his mic gig. GP is genuinely humbled by the love he's getting from the audience, and tests this theory by requesting a red wine to soothe a sore throat.
'Longing for the Night', see's the live band start to make an impact as a big drum intro blends with a deep funk feel from the guitar. Although, as the track continues, there's a danger of this combination, plus backing samples drowning out his unique, softly spoken vocals. Without being able to stray too far away from his machine, his performance is inverted and closed, but delivered with an absolute passion for each and every song.
The second single release from PBBMJ, 'Survive It', introduces the laptop into the situation, another contraption to contend with, but this doesn't shake GP.  The song's sung from a 44 year olds perspective, as life's passed him by. It's delivered as if this 28 year old's talking from experience. The female-led chorus brings his softy-spoken lyrics to life. The crowd's response is great, as he again, shouts his love for "Manchestaaaaaa".
Next is his latest single 'Liines' and one of the standout tracks from PBBMJ, where GP tells us that "Life is too short to store our grudges". It's exaggerated live drum ending doesn't feel out of place. Not one to make the audience feel left out he checks if we're having a good time, "Manchestaaaa", I think he just likes saying "Manchestaaaa".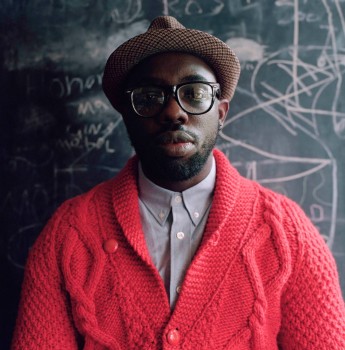 'Us Against Whatever Ever', combines a dense dance beat with a live sound, something that just can't be replicated by a sample alone. The breakdown brings on a little dance from GP that gets us all dancing as if "it's against whatever". 'Finished I Ain't' starts with an intro reminiscent of a 90's dance track. As it slowly builds, the crowd start to loosen up. GP delivers a hot-blooded chorus, complete with "This is my United K of Whatever".
'Hampton South' is a "brand new track". You know sometimes when you go to a gig and hear a new one, it's like "yeah, whatever I'm going for a wee". But this is brilliant, it takes on a Deliverance-esq, country and western style intro (hey, I think all country and western music sounds like the banjo duel in Deliverance). The incredible bass is making my feet and ears vibrate, with that nice, weird ear buzzy feeling. Judging by this little hint of new stuff, I can't wait to hear more.
As GP, just starts to loosen up more, he finishes with his debut single 'Cash and Carry Me Home'. Being only hours away from another shitty Monday morning, GP has a little corner of Manchester happily bopping around. He shuts the laptop, and as a loop of "My Name is Ghostpoet" fades out, that's it.
He's got an unassuming approach to the attention he's been receiving of late, which is a pleasure to watch and hear. PJ Harvey may have taken the prize, but Mr Ghostpoet isn't just riding the wave of MMP nominee glory, he's firmly carving out his name as a raw and utterly exciting UK talent.
Interview with Ghostpoet can be read HERE