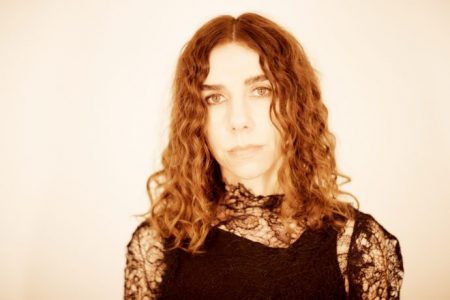 Having witnessed the ever evolving PJ Harvey perform live in many guises over the years from the guitar fury of the 1992 Manchester Boardwalk gig in the early days, to the more abstract folk of her last few releases, it's safe to say that you never quite know what to expect from a PJ Harvey gig. With each new release she seems to reinvent her approach to live performance, and each tour becomes less like a gig and more like an all encompassing musical theatre experience, the costumes, stage sets and song delivery all taking on more purposeful roles.
Having sold out two nights at Manchester's Albert Halls, and with no support band, Polly Harvey and her band take to the stage to a deafening round of applause and enthusiastic cheers from the crowd. Latest album, the phenomenal, 'I Inside The Old Year Dying' is performed in its entirety with Polly dressed in a long white dress, split at the side, moving around the stage arms aloft, gesturing for each sentiment in her lyrics, it makes for a visually stunning performance as well as a brilliant musical one. The new album is a musical exploration of the themes and narrative found in her book 'Orlam' involving an enchanting world of folklore in the Dorset countryside. Presented live, the songs take on a life of their own in a stage show carefully choreographed by Polly and theatre director Ian Rickson. The stage set seems to invite you into the world inhabited by the characters and situations found on the 'I Inside The Old I Dying' album, two wooden chairs adorn the stage on either side with the instruments further back, and a simple beige backdrop behind. It feels as though you're in someone's front room, though with no fixed time or place. The band, comprising of musical director and long time collaborator John Parrish, along with James Johnston, Jean-Marc Butty, and Giovanni Ferrario, all great musicians in their own right, provide backing vocals as well as numerous other instruments throughout the set.
Some might view it as a bold move to play whole of new album live but it's not that surprising as PJ Harvey has been defiantly doing things her way from the beginning, and 'I Inside The Old Year Dying' is an album which translates beautifully into a live setting, with songs like 'Lwonesome Tonight' delivered so delicately, there's a hushed admiration across the venue. I don't think I've ever experienced such a quiet, calm, utterly captivated crowd in there before! 'A Child's Question, July' with its folk stomping beat and chanted chorus is just as mystically enchanting live.
The second half of the set draws from her extensive back catalogue, although without dipping into songs from 2000's 'Stories From The City, Stories From The Sea' or 2016's 'The Hope Six Demolition Project', yet the older songs she has chosen to include seem to nestle into the set seamlessly. From the darkly tinged folk pop of the Mercury Prize winning album  'Let England Shake', we get 'The Colour Of The Earth', 'This Glorious Land' and 'The Words That Maketh Murder', each a reminder of the potent lyrical force of Harvey's song writing, before launching into the hauntingly beautiful 'Angelene' from 1998's 'Is This Desire' album. After welcoming surprise guest Johnny Marr on to the stage, another reverential silence falls across the Albert Halls as the two perform a spine chillingly gorgeous version of 'The Desperate Kingdom Of Love' from the 'Uh Huh Her' album with Marr gently providing a solitary guitar accompaniment to Harvey's vocals. Strapping on her guitar Harvey delivers a feisty version of 'Man-Size' from 1993 'Rid Of Me' album and 'Dress' from her debut, despite both songs being over twenty years old, they still sound as fresh and relevant today as ever. 
There's an equally spellbinding live version of fan favourite 'Down By The Water' with it's moody shuffling rhythms enhanced by Harvey's vocals delivery and dance moves. Johnny Marr re-joins the band for an encore consisting of 'C'mon Billy' with Marr providing the main riffs and lead, and 'White Chalk' on which Harvey plays harmonica. Ever evolving, always surprising, combining delicate folk with blues inspired guitar rock, it's an absolute masterclass of reinvention and a live set that cements her place as one of the finest songwriters around. 
PJ Harvey image: Steve Gullick