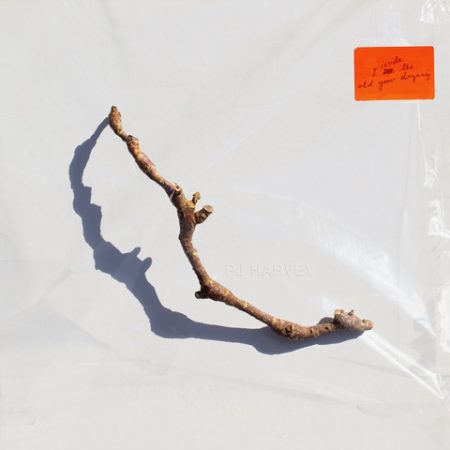 When PJ Harvey released her debut single, 'Dress', in 1991, it was immediately apparent that she had star quality. Matching a startling self-possessed voice to attention-grabbing lyrics, her songwriting managed to blend a recognisable indie rock style with more experimental elements. Over the subsequent 32 years, she has developed an ideal career, one where she has developed enough kudos and critical acclaim (including being the only two-time winner of the Mercury Music Prize) for record companies to trust her following her own path whilst retaining a significant level of privacy (except for some prurient music press coverage of her mental health struggles in the 90s) and mystery. 
'I Inside The Old Year Dying' is her first album since 2016's 'The Hope Six Demolition Project' and sees her working with her long-term collaborators, Flood and John Parish. The songs are adaptations of poems that appeared in her second collection, 'Orlam', published in 2022. However, the most instantly noticeable aspect of the album is that Harvey's voice has rarely sounded better. While much play has been made of how Flood and Parish would veto any moments where she was singing in her "PJ Harvey voice", it is still recognisably her distinctive voice, albeit closest in style to 2007's 'White Chalk'.
Previously there has been the occasional local lilt detectable in her singing but the Dorset accent makes more pronounced appearances on this album. Though far from a conventional folk artist, her use of dialect and sense of land and space on 'I Inside The Old Year Dying' and the way she conjures an alternate future past universe could be compared with Richard Dawson (albeit in distinctly different corners of England). It is a record littered with images of wildlife, trees and childhood, albeit a more troubled than bucolic vision.
'Prayer at the Gate' is an eery, otherworldly introduction with Harvey's voice especially powerful while shards of guitar mingle with queasy electronics. There are words in the Dorset vernacular which creates a specific effect so "Wordle" means "unworldly" rather than a popular word game and there is the first mention of a recurring character called Wyman.
'Autumn Term' has her recounting "I ascend three steps to hell/ The school bus heaves up the hill" in a way that makes me vow to never bemoan my schooldays ever again. Field recordings of children's voices add to the atmosphere. While the vocal delivery is strange, it sounds emotional rather than contrived.
Appropriately enough, 'Lonesome Tonight' sees her asking "Are you Elvis? Are you God?/Jesus sent to win my trust?/Love Me Tender are his words" to distant acoustic guitar while referencing Pepsi fizz and peanut and banana sandwiches. The request to 'love me tender', more a hope than command, reappears in 'A Child's Question – August' and 'August' (even the titles contain variations on a theme).
'Seem an I' starts with high-pitched vocals before flipping from spoken word to an especially rich croon accompanied by wobbling electronics. 'The Nether-edge' obtusely mentions Joan of Arc. Her voice is compellingly piercing while carrying a strong melody amidst electronic blips. Even when the title does not mention a month, a time of year is included as an under-title on the lyric sheet, on this occasion May which coincides with Joan of Arc's death. The brief title track is initially reminiscent of the demos that accompanied 'Dry' before going in a harsher direction.
At her early gigs, she would use the smiling introduction "we are PJ Harvey" and for all the fantastic nature of her voice, there are so many musical highlights on the album be it the creaking electronics dominating 'All Souls' or the discordant, fragmentary 'August' that her band deserve full credit. 'A Child's Question – August' is wrapped in a delicate melody while 'I Inside the Old I Dying' is a variation on the album title and revives the multiple use of first person singular in songtitles in a way last seen in 1970s consciousness reggae. The song creates a sense of nature, open-air spaciousness and distant church bells. 'A Child's Question – July' with its command to "Hail the hedge as it grows / Ask the hedge all it knows" and recollection "licked the twoad" is a celebration of folklore.
'A Noiseless Noise' begins with birdsong followed by Harvey singing the word "absence". The music switches between flowery acoustic patterns and howling guitar before the final instruction, "Go home now love, leave your wandering" making an appropriate ending to the album. It is a fitting summary of a creativity which has seen abrupt shifts of direction that she should follow her most directly political records, "Let England Shake' and 'The Hope Six Demolition Project', with something far more poetic and open-ended but which allows her voice to flourish amidst evocative sounds. In the fourth decade of her career, Harvey is still able to conjure new and inspiring paths.  
PJ Harvey: I Inside The Old Year Dying – Out 7th July 2023 (Partisan Records)