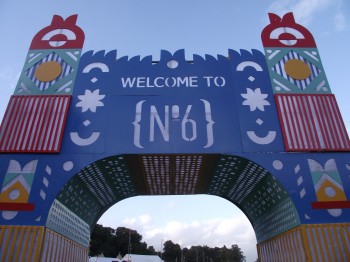 Well it's after lunch time on Friday and we've just arrived at Porthmadog Football Club, as this is the nearest parking for the park and ride facility for getting to the festival. It would appear that we have arrived at roughly the same time as many others and there is a healthy queue of eager campers, some heavily laden, some not, awaiting the ticket/wristband exchange and then the shuttle bus to neighbouring Portmeirion. There are two types of shuttle bus being used here, the single decker coach (which is the standard in these cases) and also double decker buses. Unluckily for us, we end up getting lumbered with the double decker. The reason I say unluckily is that the coach is pretty much built for passengers on one level and their luggage packed away nicely below, but the humble double decker is more accustomed to a passenger with a few bags of shopping, not a huge rucksack and a trolley with tent/roll mats/beer/kitchen sink etc. strapped onto it.
Anyway we manage to wrestle our belongings through the front doors and around the entry/exit barrier in front of the drivers cab, we get settled and within five minutes we are now having to re-do the struggle in reverse as we have arrived at out intended destination. I think this must be the first time ever a festival has been correct on the time it takes on their park and ride facility. I for one am impressed already, and not just because we are here in good time, but because everyone already has there wristbands there is no more queuing to be done. Within another ten minutes or so we are even on the campsite picking our spot (albeit on a rather steep hill) and starting the tent building process. Usually by this time at a festival I'm almost ready for doing an about turn homewards after all the faffing even before my rucksack is off my back. I'm starting to like this festival a lot.
I've been going to festivals now since the mid-eighties and I know this is going to sound typical of someone in their early forties, the face of festivals really has changed a lot, and in this time my view of them has changed too. In the last ten years I've pretty much given up on attending as a punter and opted for working the festivals instead, this will either be security, box office or as a trader. I still enjoy the getting away from the rat race to where there is music (depending which festival of course) and happy people (depending which festival of course). The biggest change apart from the size and commercialism of festivals really has to be the punters attending. Long gone are the society drop outs who loved nothing better than being surrounded by other like minded folk and listening to music you couldn't hear on every other radio station, and in are the A-Level students celebrating by running round in fancy dress to see who is the 'maddest' out of their group. And the music, well the big festivals just seem to have the same acts playing them all throughout the summer. Anyway that's the nearest I'm going to get to a rant, because right now my festival experience is going very well indeed.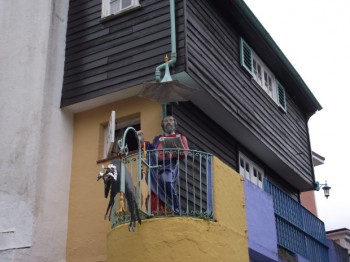 We've now got our tent pitched and I've left the other half to make the beds and generally make things a little more homely. As I previously mentioned the tent is on a hill, so anything unpacked automatically slides to one side of the tent, but the spot we have is opposite the showers, sorry the FREE showers (another point scored), loads of toilets, a food bus and coffee van, so it is here we shall stay. The first bands and acts started hours ago so we decide it's time to get into the arena and what's what and where's where.
Now nearly everyone I've spoke to and know has been to Portmeirion before, but I haven't, so I still don't really know what to expect apart from the pictures I've seen and what I've been told. Oh and I've never seen The Prisoner series either that was filmed here back in the Sixties.
Once again it's a nice short walk to the main arena and I'm happy to see that the size is just right. At the far end is a large red marquee, which is the main stage. A few food stalls away from there is a small open air stage, which is the istage and at this end by the main entrance is the Alfresco Ballroom, which looks a bit like an open fronted barn with a straw covered floor and hay bales as seats. The sides of the arena are mainly lined with decent food establishments and not your usual greasy festival rip off burger vans; in fact you won't find any of these onsite at all. In the middle of the arena are a few other concessions selling toffees and other wares. There's also a barber offering ccut throat shaves and a hookah lounge, which is not to be confused with a hooker lounge.
Time for a pint, so it's down to the real ale bar for one of the many real ales available. Pint in hand we head up to the Alfresco Ballroom to catch the tail end of Cate Le Bon. Her recent album has been said by some to a little more poppy than previous releases, well her live set here today is far from this and is just what I need to get my lugholes cleared. The band seem to be having a great time too, as big smiles and laughs are being had throughout.
After this we have a mooch and grab another drink to see Palma Violets on the istage. The band are really going for it and even though the crowd are loving it, Palma Violets could quite easily being playing for nobody but themselves.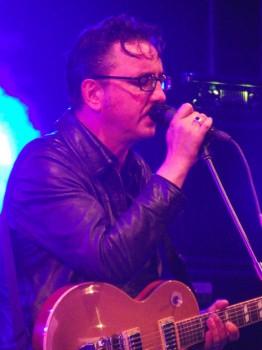 By the time we've had a bite to eat it's almost time for Mercury Prize nominated Richard Hawley on the main stage so we get a good spot right at the front. Now I'm quite new to liking Mr Hawley's music but my girlfriend is a big fan, so I'm quite looking forward to seeing him live for the first time. By the time the band take to the stage the marquee is filling nicely, but not to the extent of other festivals where you feel claustrophobic. On stage he is just as humble as he is in interviews and to be honest it's his personality that has made me a bit of a fan of late. Most of the better known songs are played such as 'The Streets Are Ours' and 'Open Up Your Door'. He even dedicates a song to "the evil despicable bastards that covered up Hillsborough" which gets a big cheer from the crowd. It's only a forty five minute set, but I'll be making a point to see a full gig sometime in the near future.
We then watch some of the istage replacement headliners Swim Deep, who I've never heard of before. Thankfully they don't disappoint with their Pixie's like sound. After this we then have a walk past the main stage and see that Spiritualized are psyching out the crowd with tracks new and old.
By now the day is feeling like it's getting on and we head back to our tilted tent and call it a night.
Acts missed today: Sweet Baboo, Hawkline, Euros Childs, British Sea Power, Zulu Winter, Gruff Rhys.
Saturday Review HERE