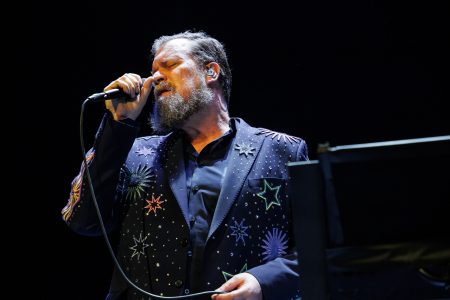 John Grant is blessed with a glorious, honeyed voice. Early in his solo career, he lived up to the cliché about being able to make anything sound good by turning a list of the items for sale in his childhood sweet shop into the most wonderful confection full of wonder and longing ('Marz'). At Manchester International Festival, he premiers his interpretation of the Patsy Cline songbook, one of the first ladies of country in terms of both chronology and pre-eminence, whose turbulent life echoed the melodrama of her songs and came to a tragic end in 1963 when she died in a plane crash aged just 30.
Grant bounds on stage in a suit bedecked with enough rhinestones and sparkles for a Strictly contestant tackling a line dancing themed piece. The band start with the bossa nova shuffle of 'Crazy Arms', although from my vantage point in the stalls, the sound is cavernous. He requests that everything is turned up which solves the problems and launches into one of Cline's biggest hits, 'Walkin' after Midnight', which he describes as a song about dogging and cruising.
Always a garrulous stage presence, Grant explains why he chose this project, how the only country music in his parents' house were instances where the likes of Johnny Cash released albums of Christian songs and how Cline was far too wicked for anything of that nature. Seeing one of his favourite actors, Jessica Lang, in the biopic about Cline's life, 'Sweet Dreams' furthered his fascination with her. However, judging by the muted smattering of cheers when he asks whether the audience are fans, the majority are here because of Grant rather than Cline.
This is an obsessive's deep dive into Cline's songbook rather than just a collection of her hits and one of the highlights proves to be 'Shoes', a song in which the treatment of footwear serves as a metaphor for relationships. Richard Hawley and his band provide an ideal backing sounding so authentic that the only thing missing is scratches and crackles. What they provide is a sympathetic reinterpretation rather than a note-for-note recreation as exemplified by 'Sweet Dreams of You'. Much slower than Cline's version, Hawley's baritone guitar heads in a 'Twin Peaks' direction and is one of the night's highlights emphasising the song's melancholic nature.
The lights come up for versions of 'Your Cheatin' Heart' and 'Crazy', adding to their emotional intensity. These big ballads prove especially suited to Grant's velvet tones. After name-checking the band, he gives a deserved credit to Tony, the sign language interpreter, who is a compelling presence on stage, mirroring my thoughts that it is great that the festival employed his services.
Ending his set with the up-tempo 'Blue Moon of Kentucky', Grant leaves to temporarily rest his bedraggled larynx. Quickly hauled back for an encore of 'Leavin' on your Mind', Grant who has spent much of the evening saying that the next song is among his favourites declares it to be the absolute best. With its piano creating the feel of falling leaves, it is a spectacularly beautiful ending to a 20 song, 90-minute set. It thoroughly warrants the ovation it receives and concludes a lovingly curated evening that shone attention on Grant's magnificent voice but will hopefully have created scores of new Cline devotees.