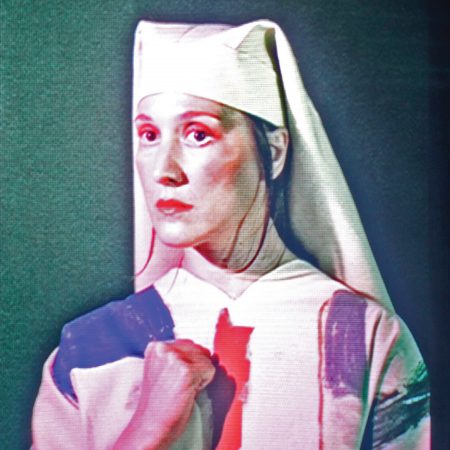 Cate Le Bon has been one of the most thrilling performers of the past decade. From hitting her stride with second album, 'Cryk', through to 2019's Mercury Prize nominated 'Reward', she has created a string of albums unmatched over the period by finding a perfect balance between experimentation and charming melody. She is blessed with one of the most distinctive voices, often referenced as a Welsh Nico, but with much greater depth, warmth and subtlety. Throw in her work with Tim Presley in Drinks, an unexpected tangent as a furniture maker and production duties on such exquisite albums as Deerhunter's 'Why Hasn't Everything Already Disappeared?' and John Grant's 'Boy From Michigan' to make a compelling case for her influence.
'Pompeii', her sixth album, is primarily a solo rather than a band album. Like most of the best music being released currently, it makes a virtue out of circumstances imposed by the pandemic with Le Bon composing on bass and recording alone. She also plays guitar, synths, piano and percussion on the record. Understated drums from Stella Mozgawa, recently heard on Courtney Barnett's 'Things Take Time, Take Time' album, were patched across from Australia. Finally, a window within the pandemic opened to allow a recording session with saxophones courtesy of Stephen Black (of the excellent Sweet Baboo and Group Listening who also played clarinet) and Euan Hinshelwood.
Bravely, opening track, 'Dirt on the Bed' is Pompeii's most challenging song. Ominous clangs suggest a heavy industrial piece before developing into what could be a Lynchian soundtrack about a nightmare of being unable to get up with repeating saxophones and detuned guitars.
'Moderation' is more representative of how Le Bon mixes her experimentation with a winning way with a tune, her voice soars and swoops alongside a phenomenal array of musical and melodic twists. Because of her voice's distinctiveness, it's easy to overlook how strong and emotive it is as she exclaims, "I want to cry, I'm out of my mind".
'French Boys' with basslines reminiscent of Japan's Mick Karn, very much a feature of 'Pompeii', and sax swirls illustrates her capacity to create a vivid, playful image: "I caught/A plastic bouquet/Down the aisle/With a sad sashay".
The title track thrillingly conjures a variety of unexpected vocal melodies while holding together instrumentation going in myriad directions with synthesized bass squelches prominent, a sense of dishevelment while holding it together reflected in the lines 'get dressed/you're a mess'. 
'Harbour' starts as if it could be on an 80s radio station, cruising down a dust track with shades on and uses space and echo to excellent effect.
'Running Away' also conjures expansive plains, Le Bon's voice winds around the saxophones beautifully which recall Roxy Music as she sings:
"I'm not cold by nature
This could bring me to my knees
The fountain that empties the world
Too beautiful to hold
Multidirectional love
With nowhere left to go"

As so often with her lyrics, they feel both emotive and hard to define, a combination that works perfectly. 
'Cry Me Old Trouble' begins with arresting words, "I was born guilty as sin/ To a mother guilty as hell/That'll teach us for sniffing the dirt". The song combines the feel of enervating heat with glacially chilling of synths, the push and pull of contradictions strengthening each image.
The closing track, 'Wheel', is based upon a piano loop with bass sliding down it, using images to create a sense of unease 'Raise a glass in a season of ash/And pour it over me' yet also comedic release. The final verse concedes:
"I do not think that you love yourself
I'd take you back to school
And teach you right
How to want a life
But, it takеs more time than you'd tendеr
Over me"
'Pompeii' rewards all the time it is granted and, even though it is only February, is already a certainty for Best of 2022 lists.
Cate Le Bon: Pompeii – Out 4th February 2022 (Mexican Summer)