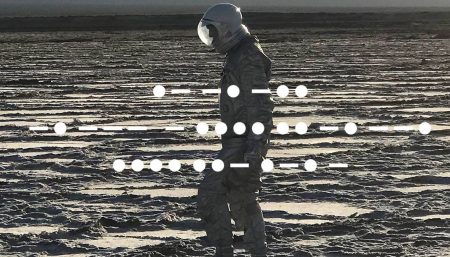 Apparently this was going to be the last album Jason Pierce (J Spaceman) was ever going to make as Spiritualized, such was the sheer effort involved, both mentally and physically. Six long years in the making, 'And Nothing Hurt' is the sound of the spaceman coming to terms with life as a middle aged family man, still burning with the same rock n' roll fire as when he first started, yet also more reflective and embroiled in the turmoils of modern life.
After almost dying in 2005 from pneumonia, and battling other health issues since then, the fact that this album exists at all is reason to get the party poppers and fizzy pop out. From the early days of Spiritualized's swirling guitar mayhem with noise levels to rival My Bloody Valentine' ten jet engine guitar assault, to celestial gospel choirs and orchestras, there's always a touch of the epic combined with fragility for many of Spiritualized's releases.
Having seen Spiritualized around fifteen times over the years, from the early days of debut album 'Laser Guided Melodies' to the gloriously epic gospel choir blues of 1997's groundbreaking album 'Ladies And Gentleman We Are Floating In Space' to the raw guitars and swirling fragility of last album 2012's 'Sweet Heart, Sweet Light', Spiritualized have been a constantly evolving beast. Apparently, Pierce has been offered millions to reform his old band, Spaceman 3, but sees no point in revisiting old ground, always wanting to move forward with his soundscapes – it's what makes Spiritualized a band miles apart from anything else around, and now having endured further health issues in the last few years has lent an even more fragile yet determined element to Pierce's song writing.
So on album number eight, the slow building sounds of opening track 'Perfect Miracle' sets the tone with Pierce's delicate vocals floating out of the speakers, whilst strings, brass and huge orchestral sounds sweep in and out, its classic Spiritualized but with plenty of lyrical twists. 'I'm Your Man' finds him offering "If you want wasted, faded, permanently jaded, doing the best that he can, I'm your man". It's an honest love song reflecting the everyday struggles of modern life, all set to a great backing of howling guitars, grandiose orchestral bits, and is one of the best songs you'll hear all year- the arrangements, the lyrics, the whole rock n roll shebang, all there in one mesmerising blast. Amazingly, Pierce wrote and recorded most of it at home, himself, on his computer, using up all of Pro Tool' s two hundred track recording limits in the process!
Throughout the album, Pierce manages to encapsulate the sheer rock n' roll abandon of a heavy night out, mixed with the delicately fragile sounds of the morning after, when the pieces are trying to be put back into some order, often all within the space of one song. Then there's the fast paced thunderous sounds of 'On The Sunshine' with its wailing guitars, pounding drums, free reign saxophones, celebrating all the night has to offer "And in the morning light, all that wasted time, 'cause it's only in the darkness when the stars begin to shine". Then there's the more gentile sounds of a song like 'Let's Dance' which finds Jason lamenting "Though I'm tired, just sitting here singing for you, y'know there's better things a lonely rock n roller could do", set to swirling synths , pianos, sleigh bells, and soaring orchestral sounds- nobody sums up the entire spectrum of human emotion like Pierce. Then there's the majestically moody yet somehow still beautiful sounds of 'Damaged', and the epic spaced-out blues jazz mammoth that is 'The Morning After' which starts off like The Velvet Underground, recalling a tale of teenage angst "Janey said she had a problem with the modern world, all the boys she ever loved are with another girl", before heading for the galaxy and beyond with squalling saxophones, brass, and guitars all jostling with each other towards the finish line. 'The Prize' and 'Sail On Through' are two of the more gentler songs on the album but still manage to retain that unique Spiritualized low down and dirty yet dignified and transcendent quality, with fuzzed up guitars drenched in layers of strings and choirs, like a huge hug after a big night out.
The fact that J Spaceman has managed to battle all the odds to make an album which is already a contender for album of the year, is proof that he's definitely one of rock n' roll's true survivors. A rare kind of musician, putting heart and soul into each song, for arts sake, regardless of outcome. If this were to be his last one as Spiritualized, what a way to sign off! A beautiful midlife masterpiece.
Release Date 7th September 2018 (Bella Union Records)
Spiritualized Official | Facebook | Twitter