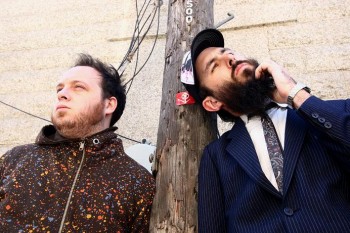 – THE RITZ, MANCHESTER –
Ooh blimey, I'm not sure which stings the most, the fumes of fresh paint in my eyes, or the £4.20 I've just handed over for a pint. But tonight one of these two things is very out of the ordinary, and it's not being charged London bar prices in a northern venue, unfortunately this seems to be common practice lately. Yes my friends the strange fact is I'm in The Ritz and there is the aroma of paint. Not only is there new paint, but also new carpet (of which the sticky adhesive seems to be on the underside for a change) and even a new stage.
The newly named HMV Ritz has had a couple of million quid spent on it and its back with a bang. Well I say a bang, after a mooch around I can clearly see there's still a few more nails that need banging in, screws that need screwing and a some more licks of paint to be done until its totally finished, but so far so good.
Most people who've grown up in Manchester have had a memory/short love affair with the Ritz, and mine was in the mid-eighties. Monday nights would be a mecca for all the punks, skins, goths and psychobillys of the North West to meet up, drink and dance until bruised and bloodied. It was ace.
The venue itself has been around for a long time now and deserves to be given some respect and if buildings received telegrams for the Queen, it would be in line in the near future to get one.
As part of the refurbishment, the stage has been extended forward and is now very dominant. So while I'm awaiting tonight's headline act I check out my vantage points. At first I try the front right hand side and quickly realise that there is a wall almost the full length of the side stage. If you were here to see  an act that uses the whole stage, this wall would take out the a good chunk of your view. I toddle off to the left hand side and grab another beer from the bar. Straight away I can see that the view is fantastic from here so I just hang about until the lights dim and Dan Le Sac and Scroobius Pip take to the stage.
First off Pip just takes a seat while Le Sac pumps out some serious dirty beats to warm up the crowd. As soon as Pip gets to his feet they launch into 'Sick Tonight' from the latest album 'The Logic Of Chance'. After a couple more songs Le Sac informs the crowd that their task for tonight is to see if they can make the Ritz's sprung dance floor bounce enough to cause his beer  to spill. I have no doubt that if this was exactly the same crowd as the last time they played Manchester (review here) this would have already happened.
Between songs such as 'Look For The Woman', 'Fixed' and 'Angles' Pip launches handfuls of glowsicks into the crowd, and even though he has some really dark and deep lyrical content, he manages to put a smile on everyone's face throughout.
By now everyone is starting to feel the music and Le Sac's beer may need steadying. I've move to the back of the room to see how the view is from here, and it's spot on. The distance of the stage added with its height makes it perfect, and I can see the whole goings on without once having to go up on tip toes.
Le Sac plays the intro to 'Thou Shalt Always Kill' and just as the crowd erupt he cuts it off, but thankfully he's just playing with us and kicks it back in. Every word is now being sung back at them and I wonder to myself, if they added the line "Dan Le Sac Vs Scroobius Pip….just a band" whether all those in attendance would sing along, I'm guessing some would and some wouldn't. Don't get me wrong I am a massive fan of this pair, but for me it's the Pip's words that do the trick. For me the song 'Stake A Claim' contains the punkest fuckin' rock lyrics you'll get for your money in the last decade and it's impossible to sing along without getting an anger seed growing in your belly.
For tonight's obligatory encore they give us 'Letter From God' and at the stroke of eleven they are done, and even though the Ritz is not yet completely done, I'm sure it will be a firm favourite with the gig goers of Manchester from now on.