Scroobius Pip (Scroob) ventures from his long time contender Dan le sac for his first spoken word tour, accompanied by the long anticipated re-release of his 2006 album No commercial breaks, of which only a 1000 copies were produced.
Descending into The Ruby lounge, I'm struck with the feeling that left with me the last time I came to see a gig here. It's not necessarily that it's a bad venue but the layout is akin to my younger teen-self trying to arrange  his room whilst drunk and horny  in humid anticipation of a quick climax; everything everywhere. We Grab a drink and lock focus. Manchester's Thick Richard is compère tonight, his wry and fast wit whets our ears like whisky over a drunk. His prose, cynical and observational, is similar in delivery to that of the infamous – and also Mancunian – John Cooper Clarke. It's a real shame he is not on for longer. The venue is packed and with a good mix of people – this is either a testament to the rise in popularity of Slam poetry or the draw of Scroob's name alone.
The creeks and slams of doors distract and bat about my ears like a wailing child as Kate Tempest and Polar Bear break silence on the stage. They are utterly different in style and perfectly content. Kate's husky and emotive voice leads by delivering 'Renegade', an inspirational poem that I've heard before. It is a call and one that attempts to reach inside the disenfranchised and the apathetic. In the poem she cites Blake and adapts a quote, "Not exerting your influence is like holding a candle to the sun." In a recent interview she set herself apart from religion, and yet, intentionally or not, there are undertones of Christianity or at least the belief in a God in her poems as there is in the use of Blake's quote – this may largely be due to the culture we are born into, or at least how the culture or the writer taints the words. This does and should not reduce the appeal of her poems.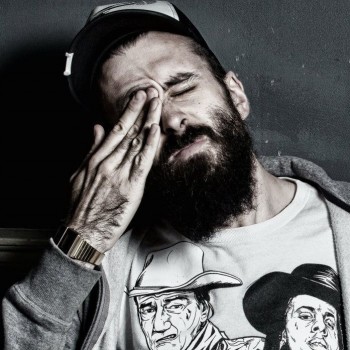 Under the shower of applause for Kate, Polar Bear (Steven Camden) steps up and begins by addressing the lack of narrative with some spoken word poets, how self-interest leads to preaching, which is ironic following Kate Tempest. Polar Bear is one of several poets who use education in their performance, he – like Kate – lifts the writing aspirations of the audience and in the interludes of his poems takes us through the motions and processes of writing in an entertaining way. His stories are well orchestrated and biographical; recounting tales of his home place. He displays dexterous command of his rhythm and both tickles us pink and spits insight. The differences in their performances are illuminated and complimented when performing alongside each other.
Scroob is the polar opposite to his poems; he is a joker. He flies onto the stage as if in a high school troupe and sings 'Duck Tales', like a karaoke maestro. Acknowledging the smiles on our faces he performs his first poem, previously performed with Dan le Sac, 'Magicians Assistant' – the poem is a conversation with someone contemplating suicide and looks at how suicide really affects those around them. Delivering a luscious spatter of poems skilfully written and artfully delivered. Trying to review or critique a night of spoken word is similar to serving a fried egg on toast in homage to dining in a fancy restaurant, or ,as Scroob puts it, to a couple who were talking loudly before one of his poems: "It's Like going to a brothel to masturbate." That is one criticism that we left with – his Crass humour. He pretended to read one of his poems from a book, at the end of it he joked that he was actually looking at a magazine full of breasts, which considering that Kate Tempest spoke of her love of hip-hop and spoken word, aside from its misogyny and objectification, cheapened the sentiments left by his words. Although the use of humour is important it should not alienate the audience and demean the melancholy substance of his poems.