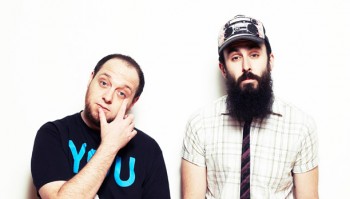 – ACADEMY 2, MANCHESTER –
Dan Le Sac and Scroobius Pip bring together two things I fell out of love with a long time ago, hip hop and poetry. Actually half of that is a lie; I never did in fact fall in love with poetry. It would be fair to say that growing up in the seventies and eighties in Salford it wasn't something that your everyday state school would include in its curriculum. Names like Yeats, Blake, Eliot, and Shakespeare were never mentioned, so for me if you say poet, I would say John Cooper Clarke and Billy Childish.
As for hip hop, well that's a different story as I really did fall in love with this in around 1982. The lyrical content back then had a message which is now none existent in what you would find under the same banner today. Names such as Kool Herc and Grandmaster Flash were the people that epitomised hip hop for me, but as this genre changed, so did my love for it.
When I first heard the album 'Angles' I was glad to hear someone having the guts to return to the original roots of hip hop by having something useful to say and it has been listened to repeatedly ever since. So when I found out last year that a second offering was in the making, I was hoping it would be more of exactly the same and it did not disappoint at all, in fact, it's even better. Anyway that's enough of my preamble.
Tonight's gig was originally booked for Club Academy but had to be moved to the Academy 2 due to demand, maybe this goes someway to showing that this pair have no illusions of grandeur. It's sold out and like myself many others are stood waiting patiently for the performance to begin The stage only contains three easels of art, a seventies style floor lamp and pouf, two microphones and a table with a laptop and a few other gadgets.
As soon as Dan Le Sac takes up his position a massive cheer goes out and he fires up the electronic beats and straight away the crowd are bouncing around. A few moments later another roar emanates and our bearded wordsmith Scroobius Pip bounds into view.
With no messing about they go straight into 'The Beat That My Heart Skipped' and everyone is singing along to the chorus while Mr. Pip is stood on the monitor speaker and holding out the mic into the crowd. Next is 'Sick Tonight' which is the opening track from the latest album and the jungle beat has all in attendance jumping around as if they're lives depend on it.
After acid electro-rock flavoured 'The Beat' Pip explains the reason for their slightly late arrival onstage is due to the fact that he was waiting for the Millwall result to come in. This gets some taunting boos hurled in his direction, but only until he explains that they beat Leeds United two nil, which immediately turns the boos to cheers and chants of "we all hate Leeds scum".
For the introduction to 'Stake a Claim' he announces that he is to be running to be the first British President and I'm sure all of us here would be queuing outside the polling stations to vote for him. He starts this by climbing off the stage and coming out to meet his voters.
When the opening beats of 'Thou Shalt Always Kill' kick in the whole place manages to go even more mental, with people crowd surfing, which is all initiated by Pip himself. After this is the latest single 'Get Better' which once again has a great message, that if followed would only make this world a better place to live for everyone.
The one encore tonight is 'Letter From God To Man' at the end of which Monsieur Le Sac is set free for a breaks and beats onslaught that would make Aphex Twin sound chilled out.
If you want your record collection to make you think, then you will not go far wrong by adding any of their two albums to it.