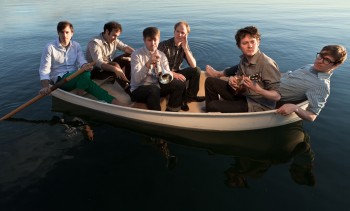 – ACADEMY 1, MANCHESTER –

Waltz With Bashir. Ever seen it? It's an animated film that centres on the Israel/Lebanon war of 1982. At the film's culmination, Israeli troops move in onBeirut. At night they fire flares into the night sky so that the Christian Phalangists can massacre Palestinians in the Sabra and Shatila refugee camps, and it suddenly cuts to actual news footage. As beautiful as it is devastating, this is probably the best film of the last ten years. The best band might well be Beirut. Unreliable, occasionally twee, but often beautiful and devastating too, they carve out orchestral textures like immaculate conceptions with Condon bedecking them with his oddly charming semi-operatic baritone. Whole albums can be boring, certain songs are perplexing, but when Beirut get it right they make you want to weep uncontrollably…in a good way.
But I rarely meet anyone who has ever heard of them let alone likes them. The last time I saw them (admittedly about 4 years ago) they played to a half-filled Academy 2, this time they fill out Academy 1. How has this happened? How has such an uncool, unreliable, obscure band captured the hearts of so many? Who knows, and yet who cares? Few bands deserve success more, and I reject the banal argument that it's nicer when your favourite band is a secret known only to you and a select few. That's just selfish. Music should be shared with as many people as possible.
It is a blinding performance. Tight and professional they make the £18 you have to pay on the door seem like a steal. One of my favourites, 'Scenic World', starts the show with its apposite title and peaceful, idyllic feel. Later, 'Santa Fe' from The Rip Tide, is livelier than it is on record, but, of course, it is 'Postcards From Italy' that gets the best reception and is the night's highlight. The closing refrain is probably the most beautiful segment of any song of the last ten years, and brings tears to my eyes.
Unfortunately, the crowd becomes increasingly restless as the show progresses. The talking gets louder, the songs drowned and the night severely damaged. Obviously not as many people have taken Beirut to their hearts as it might seem, and I can't argue with the fact that some songs are a lot stronger than others, and as a result the evening occasionally drags. Still, 'Nantes' and 'My Night With The Prostitute From Marseille are well received, as they should be, and the encore is rapturously enjoyed, 'Mount Wroclai' in particular.
Drinking in Big Hands after the show I hear various people giving their verdict on the show. One guy saying, "That was shit wasn't it", but then another guy passes saying, "That was great, which CD should I buy?" All of them my friend, all of them.