I recently had a chat with the very affable Dan le Sac about his first full solo album 'Space Between The Words.' There's quite a mix of artists featured on this release (Merz, Emmy the Great and Pete from Pete and the Pirates) and a tour to check out in October. We chatted collaborators, producing vs touring and treacle.
…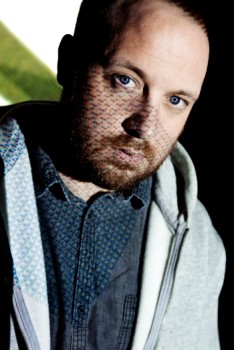 RK: So what's the reaction been like to the new album?
DLS: Well I think the phrase is critically acclaimed, which means it's a good album but nobody's bought it! No it's been really good. The fact that I'm getting to do this tour off the back of the back of it I didn't ever expect to be able to tour it. I didn't think anybody would care that much that they'd want me to play live, so that's dope.
There is quite an unusual mix of collaborators on this album. How did that choice of musicians come about?
It's just a mess really! The album took two and a half years to write, there was a lot of times where I would just bump into somebody. Like Pete Hefferan from Pete and The Pirates – we drink in the same pub and got chatting. We both liked the same song and said 'Let's cover it. Brilliant.' There was lots of me stumbling around saying 'Do you want to be on my album?' There's a mess of collaborators but somehow they fit altogether.
So what will fans expect to see from the live shows? Will there be a full lineup of musicians on stage?
Yes! Definitely bringing as many of the collaborators as I can. It won't be the same bunch every single night of the tour. At least three or four musicians off the album every night, hopefully in areas that they live. I'll come pick them up on the tour. It's going to be a proper live gig and I still want to keep it as much a party as possible.
Do you feel when you're on stage a lot of things are quite planned, or is it a lot more of the cuff?
There's going to be a lot more stuff off the cuff than a Dan and Pip tour. I've got extra musicians with me and I don't really like the word 'vibe' but we're gonna vibe it a little… There's going to be a lot more 'louchness' about the whole thing. We've got to know a lot more songs than the set requires so we might even start singing other people's songs. I'll have a go and embarrass myself! It's definitely a live gig, I want to make sure that people know it's not just me standing behind some decks.
So when you were in the studio did you get an idea of what would happen on the tour when you covered songs with the artists?
To be honest no I didn't really expect to be able to tour it. When I work with Pip I already think about how we are going to do it live. Whereas with this it was more about making the songs the best they could be. All of a sudden I'm having to backtrack and think 'How am I going to do this?'
So the videos Memorials and Play Along have quite a film pastiche feel to them, are you a movie buff?
I wouldn't describe myself as a movie buff. I'm not the kind of guy who remembers who directed loads of films. But modern camera technology has come to the point where it's actually affordable to create something quite cinematic. Those two videos are me and my mate Dan doing them. And the third video 'Caretaker' was directed by me which is the first thing I've done. We had time to say 'Ooo we could do that or we could do this…' we just wanted to make the best videos we could on the budget we had. Instead of someone singing the words directly to camera. Which is always a bit sucky. It's funny though people like videos where people are rapping directly to camera.
When you tour how do you want to present yourself visually? Or is that not as important as focusing purely on the music?
When I first started contemplating about the tour I thought of just doing it as me on stage with a video screen and bring the collaborators in that way. When I started thinking about it some of the venues I'm playing are quite small and it's going to be quite difficult to do it in a heavily visual style. Although we won't be a traditional band we're going more down that route. It's about the performance more than anything else. We might have some nice uniforms and stuff. I've always liked the idea of bands dressing identically. We may take some ideas from The Flaming Lips as well and wear some costumes. We're trying to make it as much a party as possible even though some of the songs are quite serious, people are still expecting a good night out.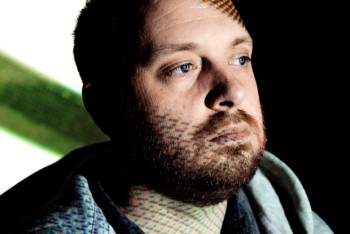 Listening to the full album there's quite a lot of jumps between sounds – going from something quite mellow to hardcore. What the overarching theme on this?
The overarching theme is just me. Those sounds have all been created by me. Although they are very varied and we go from out and out dance to more heavy rock on the album, they all still come from me. So hopefully there's something melodic… There's got to be some sort of tonal theme across the record. Not that I did it deliberately it was more of a stumble into it, but they work well together.
What was Mr Pip's reaction to the album?
He likes it actually, I didn't know what to expect from him. His album was really different from what I thought he was going to do. I thought he'd be going a lot harder, a lot rockier than he did. It is a very rocky album but I thought he'd go more to the wall, traditional punk band stylee. He said he liked mine and sent some nice texts. I didn't realise the album was going to be quite as popular as it is until people like Pip and our friends started texting 'Dan it's dope!' 'Really?! Even you think that, that's mental!'
Has it whetted your appetite for doing more solo stuff?
Yes and no. Once the tour's done I just want to get back into writing a Dan and Pip album because we've been talking about it for the last 2 years and we're ready to do it now, but going alongside that I'm going to keep writing for myself and other people. I realised recently that I could have been far busier than I have been in the last few years. Hopefully this will be like my prolific period, when that one kid looks back in 30 years and goes '2013 was a big year for Dan le Sac.'
I heard you're quite into photography. Did you have a lot of input on the art direction for the cover work?
I've got a degree in photography. The last job I had before me and Pip quit our jobs, was graphic designer. So I definitely have some ideas over what I want when it comes to art. But at the same time we try to get other people to do it purely because we're not putting pressure on each other or offending each other. I don't want to spend 3 weeks working up a cover and Pip says 'Yeh… nah… It's alright' We have to hurt each other's feelings all the time with the music so we might as well try to avoid that on other points. But with this album it's the first time I've done anything with my face on it which was weird. It felt arrogant… Like 'Look at my face!' But at the same time it really helps people to go 'I see, so this is definitely a solo project.'
Where are you more at home- working hard in a studio or the thrill of a live set?
Because I write on the road most of the time anyway it's kind of both, but the live thing I get more done when we're on the road. Its nice sitting around for 4 hours writing a song then turning up at a venue and getting to perform. It's just a nice way for the world to be. I love the live thing… It's invigorating, it's exciting and nice when people turn up.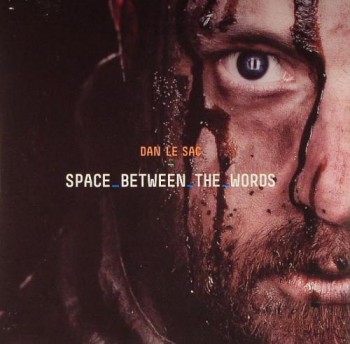 On the album cover what's the goo on your face?!
Err that's a mixture of random bits of dirt and treacle.
I thought it was balsamic…
Treacle sets a bit easier. Balsamic would have burnt!
…
Space Between The Words is out now on Sunday Best
Dan Le Sac will be playing Manchester's Club Academy on 18th Oct