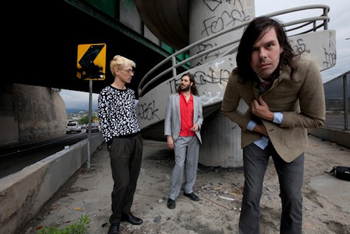 Liars – Angus Andrew, Aaron Hemphill and Julian Gross – have announced details of their brand new single, 'Brats' which is set for release on 12″ and download on 15th October, via Mute. One of the stand-out tracks from recent live shows, 'Brats' is the latest track to be taken from Liars' current album 'WIXIW' which is out now.
The video was directed by the artist Ian Cheng, who explains: "For 'Brats', I used a familiar animated narrative – hapless hunter vs. terroristic rabbit – as a format to grow a garden of signature motions. This collection of motions becomes material to recompose a new non-narrative choreography that animates the bodies of Liars. The 'Brats' video documents this entropic haunting – from the ingredients of familiar meaning arises the terror of reckless non-meaning."
Angus Andrew continues, "I'm intrigued by Ian Cheng's ability to re-imagine computer graphics that are as awkward and out of control as real life. It's unusual to see computer-animated, digital bodies with flaws that breathe, pulse, and bear traces of their imperfect analog origin and I'm honored that we could provide the inspiration for this very unique vision."
'WIXIW' (pronounced "wish you") is Liars' critically acclaimed sixth studio album. The album was recorded in LA, self-produced by the band with additional production from Daniel Miller, and mixed by Tom Biller. It's an album that is hard to shake, tough to pin down, and impossible to get out of one's head. Simultaneously the most accessible and most challenging release from these iconoclasts, it is both a summation of Liars' work up to now, and a complete break from anything you'd ever heard the band do previously.
October UK Live Dates:
10th – Leeds, Brudenell Social Club
11th – Glasgow, SW3
13th – Norwich Sound & Vision Festival, Norwich Arts Centre
14th – Portsmouth, Wedgewood Rooms
15th – Cambridge, Junction
16th – London, Scala
18th – Birmingham, Rainbow Warehouse
20th – Oxford, Gathering Festival, The Bullingdon
21st – Manchester, Sound Control