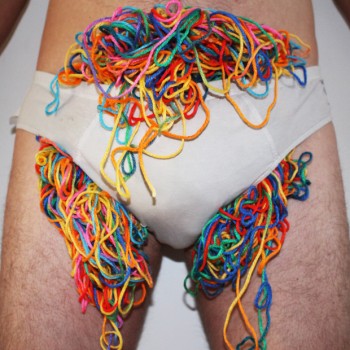 LIARS (Angus Andrew, Aaron Hemphill and Julian Gross) have announced details of their new single, 'Pro Anti Anti', out on 9 June 2014 on Mute Records
The single will be released on limited flesh coloured vinyl and download. It will also feature remixes from Factory Floor whose recent remix credits include Trent Reznor and Daniel Avery, London's Truss, who remixed Depeche Mode's 'Should Be Higher' and the mysterious Melbourne collective Nest Of Teens who remixed Liars' previous single, 'Mess On A Mission', the single comes backed with an exclusive new track 'Waste Fraud' and a radio mix from Daniel Miller.  'Pro Anti Anti' is the latest single to be taken from their critically acclaimed seventh studio album, Mess (out now).
Liars are known for their turbulent, intoxicating and inventive live performances. The band have embarked on a North American tour this month and return to Europe with two festival shows: La Route du Rock in France and the Jabberwocky festival, London in August.
Due to a back injury, Julian Gross is unable to perform on the tour. In his place, drumming duties will be handled by Butchy Fuego who has worked with The Boredoms since 2007, as well as Nite Jewel, Rainbow Arabia, M.I.A. and Pit Er Pat, amongst others. Speaking about Julian's injury, Liars have said:
"Dear people of the world, it is with great sadness that we must report some painful news about our fearless drummer Julian. He recently has been afflicted by a crippling back injury that has prevented him from [amongst other things] drumming, dancing and traveling. As such we've had to come to grips with the fact that Julian will not be able to perform with us on our upcoming string of shows. For his health and his future it's best that Julian stays in Los Angeles to rehab and take care. Please make an effort to send him all the get well wishes you can muster. Love, Liars"
PRO ANTI ANTI TRACKLISTING
VINYL:
Side A
1. Pro Anti Anti – Album Version
2. Waste Fraud
3. Pro Anti Anti – Daniel Miller Radio Mix
Side B
1. Pro Anti Anti – Factory Floor (GG/NV) Remix
2. Pro Anti Anti – Truss Remix
3. Pro Anti Anti – Nest of Teens Remix
DIGITAL:
1. Pro Anti Anti – Album Version
2. Pro Anti Anti – Daniel Miller Radio Mix
3. Pro Anti Anti – Factory Floor (GG/NV) Remix
4. Pro Anti Anti – Truss Remix
5. Pro Anti Anti – Nest of Teens Remix
LIARS Official | Facebook | Twitter | Soundcloud