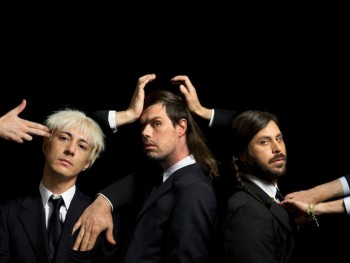 Liars – Angus Andrew, Aaron Hemphill and Julian Gross – release their eagerly awaited new album 'WIXIW' (pronounced "wish you") on 4 June 2012, via Mute. 'WIXIW' is the band's sixth studio album and the follow up to 2010's critically lauded 'Sisterworld'. 'No. 1 Against The Rush' is the first single to be taken from this new album and alongside the 2 remixes, the single release also includes b-side track 'We'll Never Learn'.
The eerie video for 'No. 1 Against The Rush', which sees each member of the band abducted by a shadowy figure in downtown LA, was made by Todd Cole, the director and photographer best known for his films for Rodarte.
Liars will return to the UK for Field Day (2nd June) and a series of intimate live shows including London's XOYO on 12th June and Manchester's Ruby Lounge on 15th June.
The album, with artwork designed by John Weise, will be available on CD, deluxe vinyl (with CD) and limited edition vinyl with silk-screened embossed covers hand dipped in black wax by the band. You can pre-order 'WIXIW' from here: http://liars.sandbag.uk.com
The title 'WIXIW' is explained by Angus Andrew, "'wish you' is a familiar and universal sentiment of longing and hope, but when misspelt becomes uniquely shrouded and difficult to interpret, which in many ways is representative of our music and the songs we wrote for this album".
Recorded in LA, self-produced by the band with additional production from Daniel Miller, and mixed by Tom Biller, the album is hard to shake and tough to pin down. Simultaneously the most accessible and most challenging release from these iconoclasts, it is both a summation of Liars' work up to now, and a complete break from anything you'd ever heard the band do previously.
"If we aren't confusing people, it's not us," Andrew laughs. "If we aren't confusing ourselves with what we do, then we've failed."
'No. 1 Against The Rush' Matmos remix