– THE RUBY LOUNGE, MANCHESTER –
Manchester's roller coaster weather is at one of its brief peaks and I'm off to go and sit in the dark basement that is Ruby Lounge. Monday evenings don't get much better… But at least it's cool and the place has really shaped up in to a decent venue over recent years.  It looks and feels a bit plusher than it used to.  It seems as though a few pillars have been removed, too.  All but the big bleeder that annoyingly obscures the middle of the stage…
The show seems to be taking an age to get underway.  Are YACHT even here?  Where are the support?  After a while it comes to my attention that there's a DJ on the stage. But does he belong to 'the guests' or the club? Does Ruby Lounge usually have a DJ?
It turns out that the man playing records on said stage is part of the line-up: (and part of (?)) Reykjavik Tourist Guide DJs.  But none of the small crowd huddled at the back of the venue seem to notice.  DJs at half seven on a sunny, Monday night in a basement bar?  A prime example of wishful thinking if ever there was one.
It's not until some blue mood lights come up that people get a whiff of band and shuffle towards the stage most likely emitting grumbling noises that sound like, "about-bleeding-time".
The band that emerges is Love Bites.  They're slightly different in that, rather than presenting something that is a take on an eighties sound, it seems as though they've been plucked from that era.  With it's synths, drum machines, and metal guitar it's a bit Sisters Of Mercy and quite anachronistic, but it isn't bad, and they look like they're putting in the effort.  Current bands do seem to be working a bit harder. Perhaps they have to with such a superfluity of aspiring pop stars believing they deserve a shot at the big-time.
With a raised hand and a gruff "peace" from the guitarist, and one or two sniggers from the audience, Love Bites are off.  And it seems as though they entertained.
And it's another wait of half an hour or so, before YACHT present themselves.  If you're wondering about the capitals (and you're probably not) it's an acronym standing for: Young Americans Challenging High Technology.
It's perhaps easy to be dismissive of YACHT at first glance as something consciously wacky and pretentious but to experience them live you'd have to struggle to stop yourself moving.  And you'd have to struggle even harder to stop yourself from liking them.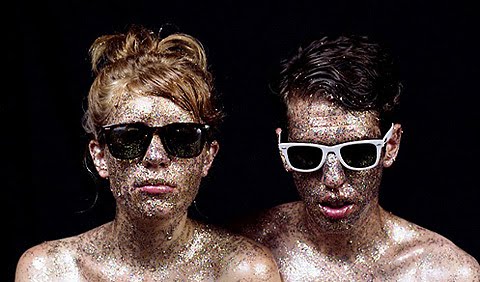 The blurbs on their official sites seem a little bombastic and a conscious attempt to alienate swathes of their audience rather than include them. But their live performance shows a different picture. As founding members Jona Bechtolt and Claire L.Evans seem to pretty much engage each individual in their audience.
Immediately upon appearing Bechtolt waves the crowd towards him only stopping when he's sure they're close enough before unleashing 'Paradise Engineering' from the new album Shangri-la.  At this point the bass is sending any drink not being held hurtling to the floor.  And by the time Evans emerges glowing in her white dress the audience are already moving.
As a pair, Bechtolt and Evans are like dynamos feeding off each other, and feeding the audience at the same time.  It's impossible to take your eyes off them.  It can look a bit performance-art-school at times, but they get away with it and they seem to be enjoying the crowd as much as the crowd are enjoying them.
The opener merges almost instantly into 'Summer Song' from their previous album, See Mystery Lights, as Bechtolt swaps instruments for a microphone and his own disjointed dance moves.  Along with the live addition of backers "Bobby Birdman", "Jerusalem", and new guitarist Katy Davidson, they're a real spectacle, and when you become a bit more accustomed to what you're watching, you can't help being impressed.
Shangri-la is covered almost in its entirety and the set approaches its peak with a powerful rocked-up version of 'Dystopia' followed by an energetic and elongated 'Utopia', which gets jammed out giving each member their chance to show off.
There are a couple of covers thrown in for good measure, too, giving a clear insight in to their influences.  The first, tucked away in the middle of the set, is the B-52s' Mesopotamia, and the second, in the encore, is an impressive take on Judas Priest's 'Breaking The Law.'
When the performance ends there seems to be a big hole hanging in the air.  It suddenly seems far too quiet.  Bechtolt and Evans thank the audience and invite them to "hang-out" with them, conveniently by the merchandise stall.  Well, they are by their own declaration a Band, Business, and Belief System.  We've had the pleasure now they're giving us a gentle push to help them fulfil the second component in their philosophy.