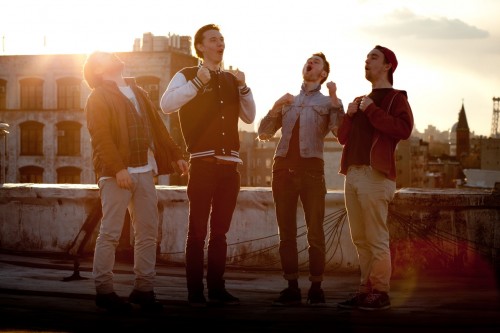 – THE TUNNEL, MANCHESTER –
Despite the presence of world renowned artists Bjork and Snoop Dogg in the city over the last couple of weeks, for many, the potential musical highlight of this years Manchester International Festival is the prospect of seeing one of the city's own acts.
Wu Lyf's slot at the festival is their only Manchester gig of 2011, and the first since the release of their debut album 'Go Tell Fire To The Mountain.' The fact that the gig is taking place in a tunnel beneath Manchester Central and will be the bands biggest headline show to date means that everything is in place for a triumphant night.
The eerie, urban setting of the tunnel complete with burnt out cars in it's entrance is a perfect extension of Wu Lyf's carefully conceived edgy image and Manchester's young hipsters have already taken their place in the front rows as the band arrive on stage.
The anthemic, almost reverential organ line of set opener 'L Y F' fills the tunnel, before the reverb soaked guitar and drums kick in, and Ellery Roberts' raw, gravelly voice adds a sense of primal urgency to the track.  This is Wu Lyf at their finest, but it's a standard they fail to maintain throughout the show.
Second track 'Cave Song' feels listless compared to its recorded counterpart and while 'Such A Sad Puppy ' starts off promisingly enough, its crescendo is hampered by poor sound which leaves it sounding muddled and washed out rather than euphoric.
So far, so flat, but with 'Spitting Blood' comes the moment when the evening threatens to explode into life. It sparks an uplifting sing along and really gets the crowd moving for the first time, and without pause for breath it leads straight into a rousing rendition of recent single 'Dirt.' It's a quick combination of sucker punches which really makes their impression on the audience, and it's the finest part of the set by some distance.
It's short lived though as all too quickly things descend back into shoulder shrugging mundanity, with songs running into one another, and a lack of discernable tunes. It's all enough to appease the devoted down at the front, but this is a bigger event than Wu Lyf are used to playing, and the audience tonight includes people who are here out of curiosity, be it because of hype, critical acclaim, or just a sense of occasion, and the band don't do enough to convert them to the cause.
Many quarters continue to dub Wu Lyf the next big thing, and tonight they show their potential with flashes of brilliance, but for the most part they fail to live up to that billing.