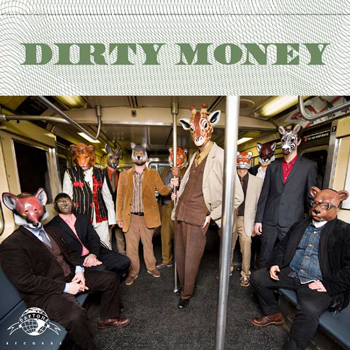 'Dirty Money' is the second song to be released from their forthcoming self-titled album, released via Daptone on 6th August. It follows hot on the heels of 'Sare Kon Kon (Redux)' (also below).
"The idea," says singer Amayo "was to come up with something hot. We've had so many collective money talks in Antibalas from day one. The horn parts in 'Dirty Money' were just so convincingly aggressive, persistent, and counter attacking, like a laid-off factory worker with nothing left to lose. The hooks sounded so dirty, it was on the money! So that was our inspiration. The lyrics I came up with are a manifestation of our collective talks, and the state of our economic times".
Born in a Brooklyn warehouse in 1997, Antibalas, the 12-piece ensemble credited with introducing Afrobeat to a wider global audience have played on stage and in the studio with the likes of Paul Simon, TV on the Radio, Public Enemy and Amy Winehouse, and can count the likes of David Byrne and Questlove amongst their fans. They return with thier first album for five years and first for Daptone Records. Produced by Gabriel Roth – co-founder of Daptone, Dap-King and an original member of Antibalas:
"At the time, there was not a lot of interest in Afrobeat, or in Fela. Because of that, a lot of people looked at Antibalas as pioneers in this second wave of Afrobeat that blossomed around the world."
In 2007, following the release of the band's last album, Security, Antibalas' Afrobeat expertise led to the involvement of several band members in Fela!, the musical based on the life of Fela Kuti, which is set to return to Broadway from 9th July to 4th August. Aaron Johnson from Antibalas is the musical director, several of the band were part of the writing process, and the band performs live in the show. Jay-Z, Will Smith and his wife Jada Pinkett-Smith are all executive producers. The show received 11 Tony Award nominations and won 3 of them, including best orchestration by Aaron Johnson. Here in the UK they were nominated for 3 Laurence Olivier Awards after a run at the The National Theatre and Sadlers Wells.