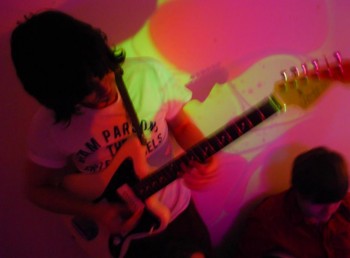 – BAND ON THE WALL, MANCHESTER – 
In a DIY sixties garage surf fashion, The Bell Peppers don't waist any time jumping off the high dive straight into a pool of the instrumental 'Bell Pepper Hop', serving as the perfect ice cold refreshment on a heated summer evening at Band On The Wall.
Building surf rock from the ground up, the vocals of the wave riding 'Rubber Bullets' are drenched in a wet reverb, as the irresistibly sun soaked 'Drapes & Squares' melts everything it touches. This Manchester-based band have carved a sound that even the "King Of Surf" Dick Dale could appreciate, and that's saying something. Smashing hits from their previous EPs Saved By The Bell Peppers and Cooking With… they really hit the kahuna halfway through a ten piece show with 'Monquitos', a song that does anything but flounder amongst a set of gnarly numbers. Sealing a familiarity to Johnny Cash, 'The Hoofstomp' expands the vocabulary of both these left handed guitar players with a brilliant rendition of an old favourite 'The Hokey Cokey', putting our right arms in, our right arms out and hips swinging until the end of the set.  Evident in who their influences are, The Bell Peppers hit the reverberant twang of the 1960s Cali days like a beach ball to the head. Surf, sun, babes – it's all there somewhere so I think I'll take my Bell Peppers with a swimming pool and a Cherry Coke thanks.
Keeping spirits high are tonight's main attraction Temple Songs. Riding off a July 1st release of their new single 'Passed Caring' and B-side 'Dinosaur Alley' via RIP Records, the band peaks with opening track and my personal favourite 'I Can't Look After You' in a frenzy as the room floods with people. Washboard scratchy with a beach buzz flare, 'Someday Someone' and the catchy fuzz pop tune 'Dragging You Down' have frontman Jolan Lewis singing the ultra blown out lyrics of "I never said that I loved you" in an ode to flames past.
Alternating to a beastly drum sesh by Andrew Richardson (who also drummed with Bell Peppers this evening), the audience goes mental as bassist Dave Hardy turns his back to the crowd to face the madness that is Richardson on stage. Jean Hughes bashes out in 'She's Away', a fast paced and focused vision of exactly what this band is all about. Slowing things down sweetly with a mouth watering new track called 'Syrup' followed by the whitecaps of 'Pink Stainless', these Mancs continue to impress with short and ripping guitar skids. The crowd yells "More!" before the grungecore of newbie 'Exactly The Same' starts, followed by 'Passed Caring' which serves as the liveliest song of the night, spawning a crowd surfing fail as gig goers twist  n' shout to the single's psych pop spiral.
The idea of a West Coast rock scene in England is nothing short of a beautiful thing. Mixing influences of garage and surf rockers from earlier days, these Manchester bands inject their own English va-va-voom in a genre that has already garnered such success. The Bell Peppers and Temple Songs hold high regard in my books and I officially label them ones to watch in the upcoming year. So slice open a watermelon, grab a glass of lemonade and bask in the weekend sun to some of our city's best music making machines, will ya?