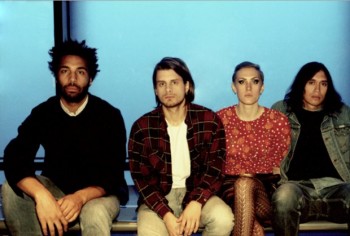 – THE DEAF INSTITUTE, MANCHESTER –
I haven't been upstairs at the Deaf Institute before and I'm struck by the glamour of the place.  For some reason it's really unexpected and I like it!  It's got big steps going up at the back for sitting on that creates a theatre kind of feel and a little mezzanine floor with big cushioned seats that acts like a kind of 'box' viewing area; luxurious!
Temple Songs are first up; a seemingly shy all male 4 piece who are quite static apart from their fairly manic drummer who seems madly into the music.  It's bouncy, upbeat, tuneful indie with a rock edge. The vocals have a 90s kind of style; reminding me a bit of Suede, although they seem to blend into the music more, becoming more like an instrument in themselves than something clear and distinct.  I enjoy the tambourines placed on the drum kit for extra janglyness and they remind me of Crashland; a band I liked when I was first discovering music.
Next up are Modern Blonde and I can't decide whether they've started or are still sound checking at first.   Essentially they are 3 guys singing over a ready-made track in distorted voices with a guitar. They have quite an 80s sound and in contrast to Temple Songs they are bouncing around (and off) the stage with confidence and humour.  I enjoy the fact that they don't seem to be taking themselves too seriously and are obviously having fun.  My friend sums them up as the love children of Goldie Lookin' Chain and Napoleon Dynamite sent back in time from the golden age of drone pop.
After this the room darkens and the oversized swirling disco ball lights kick in creating a wistful space.  There is a build up to Trailer Trash Tracys entrance in the form of visuals (of which Rebecca Salvadori is responsible for) and audio before they've even entered the stage.  When I initially heard the name I thought 'American all-girl power pop'? I read that they are from London and this pre entrance is creating too much of a dark and mysterious atmosphere to correspond with this image.  Enters 3 guys and a girl.  The mysterious darkness combined with the visuals suits the band's music, mood and poise.  I'm excited and am keen to see how this progresses.
They use pre recorded electronic sounds complimented beautifully by live playing and vocals.  It is a very smooth, sound; with an interesting complexity.  There is something familiar and warming about some of the tracks and as I look around I decide the venue really suits the band.  It's got a dolls house quality to it; the quirky and unusual sort.  The beautiful, music and the flickering light from the visuals combined with the venue with its assortment of old school speakers, the red curtains and the kitsch wallpaper give me the feeling of being in a David Lynch film.   The music does have a Lynch-esque quality about it too and just as I'm thinking this I'm led into a new song with a startlingly 'Twin Peaks' style bass line. I love it!  I'm in my element!  Ringing, soft vocals with such depth, and the slow, dreamy guitars and beat.  I can't imagine anyone not falling for this.  Trailer Trash Tracys have a powerful allure. The front woman (Suzanne Aztoria) has such a sensuality about her; a powerful confidence that draws you in without intimidation and such a gorgeous voice that's somehow so deep and yet at the same time so utterly feminine.   They are an attractive band.  My boyfriend fancies the bassist.  Overall awesome!  Highly recommend catching a live performance.
PS. We didn't have any eggs with us this time but I'm confident that they would have all survived.  Maybe they would have even hatched into weird and wonderful creatures. (see my Rumour Said Fire review here)