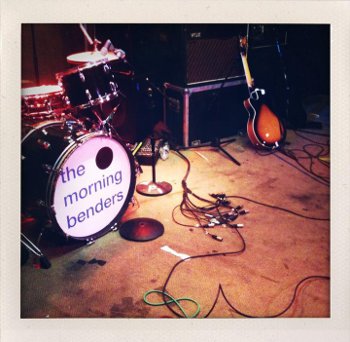 – THE NIGHT & DAY CAFE, MANCHESTER –
11.30pm is pretty damn late for a band to start their set on a Monday night, especially coming off the back of Glastonbury and England's dreaded World Cup debacle. The Night & Day's policy of 4 bands on a night is certainly value for money and opening act Crooked Rooks certainly put on a spirited performance. But as the night drags on you really wish they'd stuck to the traditional one support act / one headline act format.
Kind of like you wished Fabio Capello had stuck to the 4-5-1 formation that most of England's 'world class' players usually play at club level. Anyway, football metaphors aside, although it is going to be extremely hard to avoid using that old journalistic cliché of 'they show maturity beyond their years' when describing The Morning Benders.
The rather youthful looking bunch of Californians second LP 'Big Echo' has recently been released to much critical adulation, praised for its Phil Spector esque wall of sound.
Tonight's short but very sweet set featuring mostly tracks from 'Big Echo' begins with 'Stitches' and builds slowly and atmospherically, reeling the audience in gently. The band seems to be able to recreate the depth of its more layered LP version with ease, often punctuating with a harder edged dynamic. 'Excuses' takes them back into more quirky indie territory served up with a healthy dose of classic fifties pop sensibilities.
Frontman Christopher Chu seems very comfortable with the small but captivated audience. So much so, he makes the rather bold move of informing the audience that they next intend to play a Joy Division song. Asking the audience, 'Is that kind of a faux pas here?' and I must admit that right now I'm thinking to myself, this better be good boys!
We are then treated to a rather excellent and astonishingly faithful version of 'Ceremony' which is very well received indeed. Joy Division is not an obvious influence that springs to mind when listening to the Morning Benders but they manage to carry it off with graceful aplomb.
'Promises' finishes the show on a high note with Christopher Chu creating vocal loops to build an enchanting wall of sound. Their sound is timeless but somehow of the moment also.
They can somehow manage to sound like the Beach Boys, Pavement and Sigur Ros all in one song.
The accomplished song writing skills that they display at such a young age is a joy to watch.
Expect them to be around for a long time.