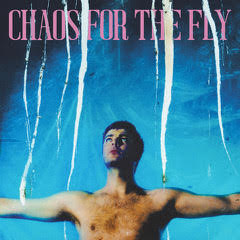 The emotional rollercoaster 'Chaos For The Fly' is lead singer of huge rock band Fontaines DC, Grian Chatten's first solo album. Chatten decided to create an album of raw, earnest songs that he wrote alone with his guitar. Certainly, this album incorporates poetic lyricism and powerful guitar to shape a masterpiece. 
A moment of airy noise opens the first track 'The Score'. Calming guitar and Chatten's isolated, tranquil vocals soon follow. The song is filled with honest and pure yet downbeat lyrics which often follow a theme of heartbreak. "You see your heart's been tethered to a sinking stone" a sombre tone is set right from the beginning of the album. Of course, Grian's classic Irish accent shines through and delivers every heart-felt word with profound emotion. 
Harrowing lyrics "Kindness is a trick to turn you strange, til you're twisted and you're shining like a varicose vein" set off 'Fairlies', easily a standout track. The simple guitar gets heavier and more Poniente throughout. Meanwhile Chatten's vocals feel lonely but ultimately passionate. Raw and sincere, "I can live alone" reoccurs pushing a sense of solitude and rejection. 
With more upbeat, relaxing music the fourth track 'Bob's Casino' is a breath of fresh air. The use of trumpets makes the song feel brighter than the last few. Despite this the lyrics say something very different. "Oh what a death he died. he drank away his sense. He never said goodbye" are melancholy words reflecting on the dark topics of addiction and death. The chorus is sung by an ethereal woman's voice turning the song into something very soothing. It almost feels like you're floating. This woman's voice contrasts Grian's harsher voice flawlessly and calms the track down giving it a delicate vibe. 
One of my favourites on the album is 'East Coast Bed'. Overlapping spacey vocals and prolonged electric guitar make the track unique and mystical. Scattered across the song there are strange noises reminding me of an alarm or warning making the song still give you the same intense chills as the rest of the album. Again, soothing trumpet is also used in the song to add another layer to the music. 
A heart-wrenching track, 'Season For Pain' closes 'Chaos For The Fly'. Instantly there is a desolate, haunting feel to the song due to the gloomy, gradual music. Following the music begins the lyrics of discomfort and suffering. "This is no season for loving, this is the season for pain" emphasises feeling unwanted and struggling with hurt caused by heartbreak. In the second verse the electric guitar amplifies into a sudden burst of anger before mellowing down again. Likely this reflects Chatten's feelings of rage as well as mourning and hopelessness. Once the lyrics finish the album is spectacularly closed with angry, sharp piano and bits of disjointed, erratic speaking. An extremely soul stirring but memorable end to the album leaving you with shivers down your spine.
Grian Chatten – Chaos For The Fly: Out 30th June 2023 (Partisan Records)