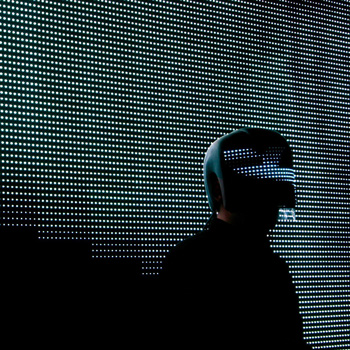 With the 90's dance music scene very much making a comeback, the likes of Squarepusher have the perfect opportunity to show the young pretenders how it's done. Another of  Warp's electronical wizards, Tom Jenkinson, has been producing mind-bending sounds since 1994, along with label mates and veterans Aphex Twin and Autechre.
'4001' kicks things off perfectly with a rapid and minimal drum and bass groove, evoking memories of the classic Playstation game 'Wipeout'. After 100 seconds, euphoric, hands in the air House chords add shards of light but take the tune in a disappointing direction. It breaks down again, back to it's best with glitches, rewinds, distortion and constructed malfunctions, giving the impression that whatever electrical contraption is responsible for this noise, is running beyond capacity… the bright chords return before the track finishes and more palatable the second time around, almost creating an Orbital moment.
The rest of the album continues along these lines, sonic experiments and ideas are mashed together skillfully, but occasionally frustrate and confuse. 'Unreal Square' starts with a cheeky 8-bit Nintendo soundtrack melody that transforms into a drum and bass foot stomper, before the bright cathedral chords return again.
You kind of get the feeling Squarepusher loves his classic gaming consoles, and maybe even Manga. His thrilling live shows see him wear a helmet of which the visor is covered in lights, complimenting the images that go on behind him… visually stunning, but some way off the show that has been produced for Amon Tobin's 'Isam'. Challenge.
'Red In Blue' feels like you've just been stomped on by the end of level boss and you're too disheartened to press the 'Retry' button – depressing and lifeless. 'The Metallurgist', however, is a highlight – dark and moody, complex, contorted and funky. Tom's slap bass experience must've come into play here, although the sound has been warped into something very much removed, and all the more sinister.
 'Drax 2' slows the tempo and takes all of 7 minutes and 23 seconds to persuade you that the album has turned the corner for the better. 'Dark Steering' was the single that whet my apetite for this release. The steady beat does well to discipline the glitches, maintaining a balance and building nicely to a Tron-esque Daft Punk 'chorus'. Images of tearing around a cityscape on a powerful motorbike are created with engine revs and gear changes, combined with implied bright lights and traffic.
'303 Scopem Hard' starts as though you've blown the exhaust and are wobbling around dangerously on the busy roads. More filtered slap bass maintains a rapid tempo, but suggests a crash is imminent. 'Ecstatic Shock' is you slowly regaining control and moving on.
I'd imagine 'Ufabulum' would be great to listen to while gaming. Early tracks on the album prove on occasion that dirty electro and cheesy house chords shouldn't really mix. Persistent listening is rewarded, if only to get the better and latter half of the album, and is necessary if you want to get your head around it all. This is not for the faint hearted, or the impatient.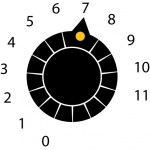 'Ufabulum' will be released through Warp Records on June 18th