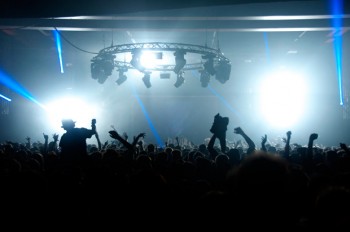 – THE WAREHOUSE  PROJECT, MANCHESTER – 
My disappointment at The Warehouse Project's relocation is short lived after just a few minutes in the new venue. The Store Street car park served it's purpose well for a number of years, and it was just up the road from my flat… though the place did have some flaws. It's a rather long trek in the rain down to a new permanent home – Trafford's Victoria Warehouse.
Imagine the 3 Manchester Academy venues connected on one floor by a maze of corridors. With all 3 rooms in use, the venue can hold over 5000 people and this event is sold out. There's a bar everywhere you turn and the toilets are designed much like those at football stadiums. It has bare brick walls, crumbling pillars, superb moody lighting and incredible sound.
Martyn is playing in the main room as I enter. The venue is filling up nicely at this relatively early hour (10pm). When WHP was in town, people would turn up late, remaining in the local bars until their favourite act was due onstage. Now that taxis need to be considered, earlier performers will be playing to a larger headcount… and everyone on tonights bill is a headliner in their own rite as it is. Martyn builds the atmosphere nicely with some deep funky house, and then drops some classic drum and bass to close.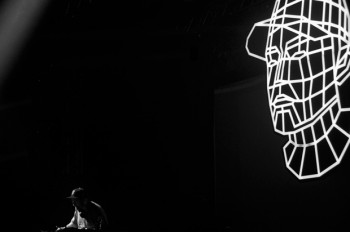 I saw DJ Shadow in his previous WHP appearance when he  performed from inside a large pod. Tonight, there are just flashing lights behind him in the shape of his head. He's not short of confidence, but he's been in the game long enough to know how to work the crowd, promising a wide variety of genres, with one thing in common – loads of bass. We're treated to experimental hip hop and a Bay Area sound with familiar samples and live drumming. He takes the set in all kinds of directions, a brave decision but very much appreciated, here. Witnessing a game where Messi doesn't score is a rare event, as is hearing Josh Davis miss a beat, but it happened tonight. "I was there when…". He apologises and seems surprised himself. It's nothing that 'Organ Donor' can't fix. It's an A-bomb of a tune if ever anyone has heard one, he can do what he likes as long as he ends with this monster. I've had a great night already and there's 4 more hours to go, yet.
Flying Lotus hasn't been around quite as long as Josh, but nevertheless he comes armed with a ridiculously impressive back catalogue of soulful, glitchy grooves and beats. If it's at your disposal, you may as well start with Erykah Badu's voice. Steven Ellison stands sandwiched between two projection screens, enveloped in rapid swirling abstract imagery and animations. Niki Randa's vocal creates highlights, as do recognisable beats from his 4 albums and various EP's. The crowd are knowledgable and well up for this – another improvement from the previous venue.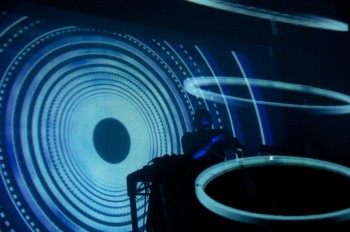 He mixes some Beastie Boys 'Intergalatic' in there, with some Thom Yorke for good measure. A sea of sweaty, gurning student reach for the ceiling and dance their asses off. He comes out from behind the screen to greet the crowd and do a little dance… he's enjoying this as much as we are. Quieter moments from the albums are missing as to, I presume, maintain a danceable tempo, but I kind of wish there was more of an eclectic mix of the slow and the manic. That's my only criticism. He was superb.
I need a breather, so I wander around to Room 3 for Floating Points, who's playing a chilled head-nodding set with a jazzy euphoric twist. The low ceiling and intimate friendly atmosphere provides a great alternative to the full-on mayhem in the massive main room.
Squarepusher makes his presence known to the entire venue by dropping 'Dark Steering' and causing a stampede. The monotone light display of pixels behind, infront of and on his helmet create an effective  visual distraction, as have all tonights performers in their own way, diverting attention from what is essentially one man (very skilfully) pressing a load of buttons. The cheeky 'Unreal Square' shows his light-hearted side but largely the set is a mixture of stuttery warped digitised machine gun rattles, sounding much like a Transformer being pulverised. Deeper, dark moments that remind me of Future Sound of London impress the most, but are few and far between. It's 3am, I've possibly lost all hearing in my left ear, my legs ache from uncontrollable foot tapping and dancing and I've almost maxed out my camera's memory card.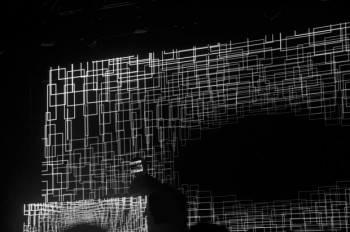 An impressive number still remain to see the night through, this Warehouse is set to create some very memorable moments in years to come, and has no doubt done so already in it's 2 month existence. State of the art equipment, dizzying line-ups, perfectly organised and in a superb setting. This thing will grow and grow and soon enough, every city will want one. It's the underground O2 arena of the north.