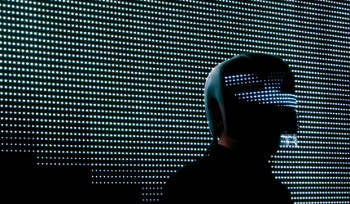 Squarepusher's 'Ufabulum' is released on 14th/May. We can now announce further product information including special edition vinyl, CD and LP-T format (the vinyl and T-shirt are printed in phosphorescent & normal ink), plus there's more music available in the form of 3 track Enstrobia EP with special CD & vinyl editions of the album.
Short demo of the phosphorescent ink used in special edition vinyl & LP-T formats:
Ufabulum (Phosphorescent Vinyl) with Enstrobia EP CD
WARPLP228X
Special edition vinyl set. Rigid box, lid wrapped and lined in black, screen printed in phosphorescent and regular ink, so that when the lights go out, the Squarepusher logo is revealed. Contains 2 x LP in individual sleeves, 12 page 300x300mm booklet, download code card and the 3 track Enstrobia EP on CD.
Ufabulum (Special edition CD) with Enstrobia EP CD
WARPCD228X
CD in 6 panel digipack with 12page booklet, plus 3 track Enstrobia EP also in digipack, bound together in digipack printed black with spot gloss UV.
Ufabulum (Standard CD)
WARPCD228
6 panel digipack with 12page booklet.
Phosphorescent Squarepusher LP-T with Album download
WARPLPT228
Phosphorescent print T shirt with Album download. Black premium T Shirt screen printed in phosphorescent and regular ink, so that when the lights go out, the Squarepusher logo is revealed
Watch short Ufabulum Clip on YouTube
Squarepusher Facebook
http://www.facebook.com/squarepusher
Tracklistings
Ufabulum
WARPCD228, WARPCD228X & WARPLP228
01 (A1) – 4001
02 (A2) – Unreal Square
03 (B1) – Stadium Ice
04 (B2) – Energy Wizard
05 (B3) – Red In Blue
06 (C1) – The Metallurgist
07 (C2) – Drax 2
08 (D1) – Dark Steering
09 (D2) – 303 Scopem Hard
10 (D3) – Ecstatic Shock
Enstrobia EP
WAP336CD
1. Angel Integer
2. Panic Massive
3. 40.96a