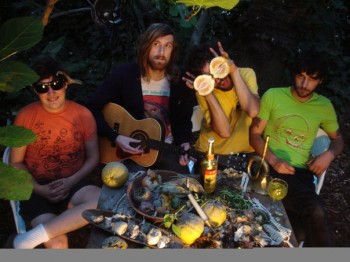 – THE DEAF INSTITUTE, MANCHESTER –
Floating into the ether on the same cloud (i.e. Pitchfork) that brought us The Fresh & Onlys, Real Estate and Woods, Ganglians pedal a very 'now' sound – scuzzy yet sparse guitars, a little bit surf-y, a little bit Pavement-y, with generous overtones of psychedelia.
There is however, something a little more authentic about Ganglians breed of hipster surf-pop. Rather than plumbing desperately at the depths of relevance, you get the impression they evolved of their own volition – that they'd be making this music regardless of the existing zeitgeist.
Frontman Ryan Grubbs, a sort of anaemic Kurt Vile complete with battered guitar, has an appealing casual elegance, nonchalantly dispatching songs with ease and grace. Chief guitar duties are fulfilled by Jesse Eisenberg, apparently, whose enthusiasm and frankly lovely smile inject the line-up with a bit of coy charm. There is a certain earnestness to Ganglians overall show, eschewing hackneyed indifference for a genuine eagerness to play their songs.
The songs themselves are pleasing, yet soon grow boring. Level and tempered melodies, whilst very enjoyable on record, soon grate in the flesh, leaving you craving something a little spikier, a little more fluctuating to make them an engaging live act. Despite quite static material, they have a sizeable crowd dancing wildly at the front.
There is something a little formulaic about Ganglians set. A structured rendering of their material makes their performance seem a little timetabled- 'we're going to be doing two mid-tempo songs to start off with, then two faster ones, then two slow ones' and so is lacking in any sort of spontaneity.
Debuting a new song, a jaunty, rambling take on their otherwise undeviating sound – if this is an indication of things to come they might well be getting a little bit more interesting.
Leaving on a strangely subdued and disjointed note, they come back for an encore (a genuine one), and inform us it's their first. Infused with an energy the rest of the set has been sorely lacking, Ganglians might have redeemed themselves if only they hadn't have left it that little bit too late.