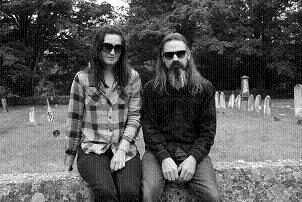 – THE DEAF INSTITUTE, MANCHESTER –
I'm here tonight in the ever cool surroundings of The Deaf Institute's music hall on the strength of one single. Is this right or is this wrong? Who knows, but Moon Duo's last single 'Mazes', has been played to death on my walks to and from work and has resulted in me coming along tonight to see if their other offerings can achieve such a high play rate on my MP3 player. Even if I end my night only having enjoyed that one track, in this venue, being here won't have been a complete washout.
After the opening set by Turkish duo Kim Ki O, (which translates to 'who is that anyway?) who are quite possibly in their spiritual home due to their Joy Division/New Order-esqu dark sound, the stage is stripped and laid bare.
Whilst the sound guy gives us some backing music and the crowd starts to swell, which happens quite often in this venue when the support can be heard ending their set from the downstairs bar, a bearded figure wanders onto the stage with a box containing around half a dozen pedals. As it turns out the bearded figure is no other than frontman Ripley Johnson himself. During this time a projector starts it job for the evening by projecting weird, sorry that should be mood setting, footage onto the screen at the rear of the stage. Well I say the screen, but it would appear it's a little too small for tonight's task as the film of grass being blown around in the wind is covering the entire back wall.
Now that the stage is set out with an added keyboard stand with a few additional gadgets on the shelf behind the keyboard and the box of pedals on the floor, it would appear all is ready as Johnson and his lovely partner Sanae Yamada take their places.
For some strange reason, probably for no reason at all, the crowd are stood in rows in front of the stage, and I count just three girls in the first four rows. I'm mentioning this not because I like girl counting, honest, it's because from the one track I do know, I wouldn't have the music down as particularly bloke-ish.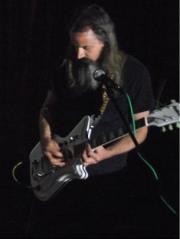 The room is now smoke filled and the opening fuzzes and keyboard of 'Stumbling 22nd St.' fly straight at us from the PA. I gather from this song that some of their sound is deeper and possibly darker than my initial expectations, but still the keyboard gives it a borderline sixties psychedelic touch.  Next is 'Mazes' and live it's spot on and is nearer to the album version than it is the radio edit (the promo single I received had just the two versions on it).
By now both Yamada and Johnson could quite easily have forgotten that the crowd exist, in fact they could also not know each other exist. She has her head down and shaking it and waving it around and I suppose really 'feeling the music man', whilst Johnson when stood back from the mic also just stands staring down at his white guitar, of which, would not look out of place being strapped across a member of an eighties hair metal band.
By now we are half way through what turns out to be a show of only eight tracks, but even though each offering is probably two to three times the length of your usual live song they don't feel too long and drawn out. I can clearly hear such bands as Hawkwind and Spacemen 3, but even when I saw these bands play live you knew that they were crossing the line of being rather self indulgent. As for Moon Duo, they are slightly more up-tempo throughout, which gives them the permission to drag tracks out without anyone seeming to get bored.
'In The Sun' is played and again it reminds us that this side project to Johnson's Wooden Shjips can keep us teetering on the edge of enjoyment and boredom. This shows a skill that many acts get wrong in the live environment.
They close the set in the same way they close the album, with 'Goners' and they leave the stage with no fuss or conversation at all. As soon as they do, people flock to corner of the room to shake their hands, have their photos taken or simply just thank them for a great show and how rightly so. The only other part of the room now tightly packed is the merchandising stall, where t-shirts are being sold at a crazy rate. I attempt to acquire myself a copy of the album, but being a grumpy old get that has an issue with queuing for anything in life, I hastily leave with the intention of popping into Piccadilly Records on my lunch break tomorrow to make the purchase.
So was it right to go to a gig on the strength of one song? Well the answer is a big fat yes and I'll do it again in the future because tonight has proved it's always worth taking the risk when it comes to music.
——————————
P.s I did get to Piccadilly Records on my lunch break and make my purchase.