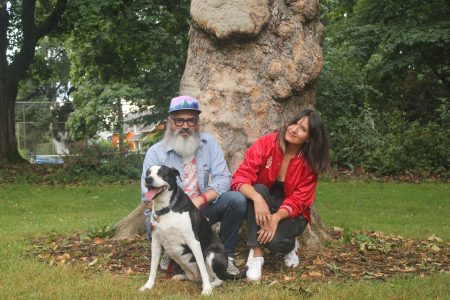 Rejoice! Moon Duo have a new album out, 'Stars Are The Light' and it's an absolute masterpiece of hypnotic melodies mixed with electronica and pulsating beats. I first fell in love with their sounds after hearing 'Circles' back in 2012, with its fuzzed psych guitars and entrancing melodies, many bands try to do a similar thing, but no one does it with such flair and raw rockin electro fervour as these two. All Moon Duo albums have a thread of psych hypnotic rhythms matched with great melodies that weave in and out, yet each album manages to exist in its own universe of sounds from the hazy swirls of guitars and keyboards on 'Shadow Of The Sun' to the heavy psych melodies on 'Occult Architecture Vol 1' and its's more summery partner 'Occult Architecture Vol 2'.
The duo comprising of Ripley Johnson and Sanae Yamada recently stayed in Manchester as part of an artist residency at Islington Mill, and are back here on 29th October at The Dancehouse Theatre. We managed to grab a few words with Sanae Yamada from the band on the new album, rediscovering her love of disco, and reflecting on her time here in Manchester.
The new album seems to be more electronic based than previous releases, who were you listening to around the time of writing the album?
"We were listening to different iterations of disco. We wanted to make dance music and we turned to disco as a primary inspiration. There is a Brazilian record called Azymuth that we got really into.  We also listened to a bunch of Grace Jones and some classic disco playlists. A good friend of ours has a killer radio podcast called DOODcast that we're frequently tuned into, and he plays a lot of obscure, international disco cuts from the 70s and 80s. He finds all kinds of fantastic things we haven't heard before."
You've said the new electronic direction was inspired by changes in the world around us, how has that shaped the new album?
"We were talking about a change in direction in our music as part and parcel of the ongoing state of change in ourselves and everything else. Our sound has always been evolving, which, to us, is a reflection of the fact that nothing is static. It's our way of embracing natural processes."
Why did you choose to work with Sonic Boom as a producer for the new album, and why did you choose to record it in Portugal?
"In the interest of factual clarity: we recorded the album in Portland, Oregon, both at our home and at Jackpot Studios. The mixing session is where we worked with Sonic Boom in Portugal. That said, we wanted him to mix the record based on our long-time admiration of his work, and on our experience making a 12" single with him a couple of years ago. He is awesome to work with, and we love what he did with the tracks. Portugal seemed like the obvious choice because that is where his studio is located."
Obviously you both have other projects going on, with Vive Le Void and Wooden Shjips, so how and when do you decide the time is right to create a new Moon Duo record?
"Moon Duo is something that is always brewing between us. As soon as we finish a record, the seed of the next one is planted, though we usually like to give it some time to steep. It's important to both of us to take time and space for other projects, so we make sure that happens, but we always have an eye on the schedule, and when we see a decent window of time, we reserve it for Moon Duo."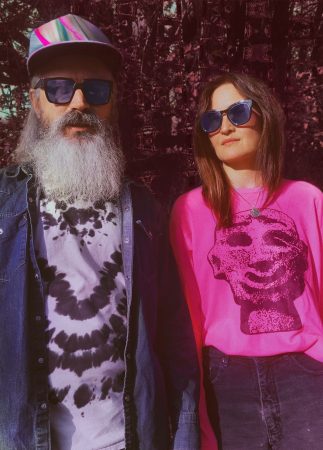 How does the dynamic work between the two of you when writing songs, do you each come in with your own ideas and let the other work on it, or is it more of a free flowing improvisation in rehearsal which evolves into a song?
"All of our songs are, in some sense, conversations between us. Ripley writes the structure of the songs, and we build together from there.  I like to have some solitude early in the process, to sit with what he's done and answer it with ideas about texture and character. We also like to do some pre-studio rehearsing with our drummer John Jeffrey where the three of us get a feel for the groove. We usually record basic tracking in a studio to make sure the drums sound good, then Ripley and I do a lot of overdubs at home, where we pass a recording back and forth until it feels done."
The artwork for your albums always seems an integral part of each release, and fits in with the overall theme of that album. What's behind the concept of this cover – the aliens dancing on a cosmic disco platform?
"Yes, we're very particular about album art. The Stars Are The Light cover was designed by a brilliant Indonesian artist called Ardneks. We were fans of his work, so we wrote to him with the themes of disco, love, communion, and cosmic expansion, and he created this gorgeous artwork from that. I think it fits the music perfectly."
What were you listening to in the early days, which made you decide to form Moon Duo?
"One of our very first conversations when we met was about our shared love of The Velvet Underground. When we started the band, we were hugely inspired by Suicide, and also by Silver Apples. We were interested in the possibilities of what we could do as a two-person rock band, and we wanted to make music that had an element of raw primitivism."
The overall electronic and rave feel if the new album reminds me of great nights out in Manchester in the early 90s (at The Hacienda and other dance clubs) but flipped around and mixed with psych hypnotic beats. Were you into the rave scene in any way?
"No. Neither of us was ever a raver, but we were trying to make a dance record, so it kind of makes sense that we would land somewhere in that neighborhood."
You stayed here for a while earlier this year doing an art installation at the Regent St Trading Estate in Salford, as you know, we love our music, both indie guitar bands and electronica, are there any bands from our city that you admire, and also what did you like about living here?
"Yes! We did a two-week artist residency at Islington Mill through an organization called Samarbeta. It was a great experience. We were working on a new collaboration with Emmanuel Biard, who has been designing our light shows for a couple of years. The best thing about the extended stay in Manchester was the people we met and worked with  – The Mill is such a special place. It's an incredibly rich community of artists, there is always some fascinating conversation going on, or some impromptu gathering around a table. It was truly inspiring to be part of it for a while. Riv and Emma, who run Samarbeta, are doing something no one else is doing. I've never heard of another project like theirs that works specifically with musicians. And they are just stellar human beings. As far as Manchester bands go: we love Joy Division, Stone Roses, Gnod. Horrid were great, and we're fans of Bridget Hayden, though I think she technically lives in West Yorkshire."
You're playing Manchester on 29th October at The Dancehouse, what can we expect from your live shows this time around?
"Lots of new songs! The new set is a few degrees groovier, and, thanks to Samarbeta, we have an sweet new video and light collaboration to present."
Moon Duo: Stars Are The Light – out 27th September 2019 (Sacred Bones Records)
Moon Duo play The Dancehouse Theatre, Manchester on 29th October 2019.