It maybe a cold and sometimes unforgiving place, but Scotland's musical endeavors have been a blessing of late. One look at the Lucky Me rota and we're blinded by the gems glistening up in the highlands. Planet Mu's latest signing Rudi Zygadlo seems to be the next addition to the list.
This Glaswegian musician makes his debut with "Resealable Friendship" and album "Great Western Laymen" is in the pipeline for release in May. "He describes his music essentially as a fusion, a form of music he's had in his head which brought together the music he enjoys into a new format." Sounds interesting eh? One man's mind's medley of musical genres.
To summaries what genre this is, is an impossible feat but one can only site the evident elements of inspiration, Dubstep, Pop, Indie.
Vocals open the track, joined in chorus by low end fuelled bass. Offering similarities to Starkeys recent Stars release, synth stabs force their way in and out of the background working to strengthen and add intensity to its core. Once the bass line makes its entrance it becomes the main driving force of the track allowing the vocals to take a back seat, but all for the best. Although definitely a unique addition to the track, I'm still undecided as to whether the vocals sit well with the track. But by all accounts this is "experimental" music and without such elements, progression wouldn't be made.
Two of Planet Mu's finest take up the remix mantle; Starkey & Slugabed. Both keep the vocal work intact but reshape the beat in their trademark approaches. Starkey stays close to the original, taking it into deeper territory – shuffled fx and a re-edit on the bass makes for a pleasing listen. Slugabed aims for the dance floor with his "Special friends Deepest Hole Remix". Employing his cuts and switch approach with chainmail hi hats, mechanical drum work and strangled synths gasping for air. Hats off to Slugabed, this man seems to be unstoppable at the minute.
The last track "The Udu & The Clave" hands back to Rudi. Baring similarly in its approach to the title track, a low sung bass battles with a multitude of leads and chords for supremacy.  Quarta 330 gameboy fashioned effects introduce the track and fit perfectly within the track.
The single drops on vinyl & digital format on the 29th March and it's definitely an ear opener for a first release. I am intrigued to hear how Rudi's sound will progress and will be looking forward to when the album drops. Fans of Starkey and synths lovers take notice.
Listen: http://www.planet.mu/artists/rudi
Learn: http://www.myspace.com/rudizygadlo
Buy: http://www.planet.mu/discography/ZIQ264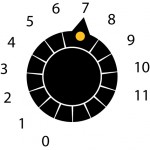 Release Date 29/04/2010 (PLANET MU)