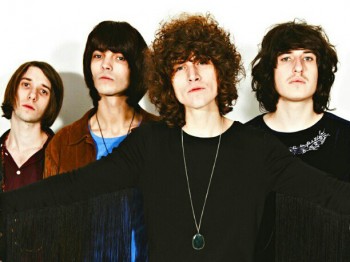 – NIGHT & DAY CAFE, MANCHESTER – 
With the sun about to set at half eight, we're here to witness tonight's double feature: a co-headlined tour by Temples and Drenge.
Temples' psychedelic tunes have put them in high demand since the release of their seven-inch back in November, which ultimately pushed them headfirst into the press as the next neo-psych outfit to "keep an eye out for".  But Brit Jean, don't you write that about everyone? I know – it may seem that I have high hopes for a lot of rising talent in the UK, but I only say it because I mean it.  Second on the bill is Drenge, who were only just here last month supporting California's blues-infused ladykillers Deap Vally, and have now clearly got the itch to tour and make a name for themselves.  After a quick peek at the merch booth, to my dismay Temples have sold out of their single Shelter Song. Actually, I became aware that it was unavailable long ago due to its popularity, but just a small part of me hoped they would have brought a great big box like it were a Christmas morning vinyl affair.
If I have any concern tonight, it would be the two band's differing style of music – what kind of crowd can we expect? It's the colourful haven of a meadow-hippy walking into a garage-punk mental ward. I'm all too intrigued to see what happens.
As Temples take the stage, a bearded lad next to me makes a cheeky Marc Bolan/Mars Volta joke because honestly, you'd be surprised, blink twice and think it was the T-Rex glam rocker himself up there in that gleaming silver jumper.
"It's lovely to be here. Our first time in Manchester", frontman James Bagshaw assures the audience, when really I give my head a shake because I thought they played Deaf Institute behind Stealing Sheep in December.
Launching into 'The Golden Throne', our eyes immediately transcend into blurry kaleidoscopic film. The head swaying Arabian nights feel of their first song has my mate and I in big smiles, singing along to "Clashed hands shaking in the closet/Hands down/You will have to see" like a pair of under the influence dazed and confused teens.
Following 'Sun Structures', the flute-driven whisper of 'Prisms' serenades us back to the questionable green haze of the seventies. Hold on a minute.  Have we found ourselves eating rainbow drops on Willy Wonka's psychedelic boat ride already? Although the vocal track isn't as smooth as the recorded release, this is still an incredible song to see performed live.  We float down that creepy chocolate river to the unofficially announced next Temples single 'Colours To Life' which is full of cosmic-inspired harmonies kept in close spirit to The Byrds.
If the fine-tuned performance of both 'Keep In The Dark' and 'Shelter Song' are any indicator, Temples brought a set tonight that was chilled out and easily enjoyable to any psych-rock, acid loving music aficionado.
After a bit of a delay between sets, the stage seems almost empty as the two-piece Sheffield lads Drenge kick off with a bit of high-energy garage rock.
The duo give a hard-hitting performance that blazes through the crowd like wildfire, changing the entire atmosphere in Night & Day from the ultra-relaxed Temples set to heavy hits worthy of a mosh pit – thus all confirming that Drenge own this night.
The amount of force behind Rory's drum playing comes across in his facial expressions, and you just know he's into it. 'Dogmeat' highlights his infuriated beats as brother Eoin protests "Everybody thinks I've got new ideas" on angry vocals. The slugging guitar of 'I Wanna Break You In Half' is no match for the wack-attack baseball bat of  'Bloodsports', the band's single. Finishing off the gut-wrenching 'Face Like A Skull' comes one slow burner that has half the crowd out the door and could easily have been left out. What happened to leaving on a high note?
I have to give these two very different bands credit for their endeavors. The only setback to tonight may have just been a clash of genres, as I thought. You would have felt like you went to two completely different gigs tonight because, well you did. Both unique and equally talented in what they do, Temples and Drenge put on one hell of a show and will surely have no trouble gaining a bigger fan base once festival season hits.