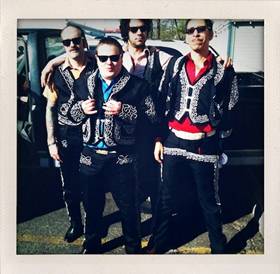 – THE DEAF INSTITUTE, MANCHESTER –
If you like a bit of garage rock, one man who shouldn't need any introduction is Kid Congo Powers. Legendary sometime guitar slinger with The Cramps and co-founder with Jeffrey Lee Pierce of The Gun Club, and later six string hombre with Nick Cave and The Bad Seeds, Kid Congo is garage royalty.
There's a weight of musical history on the shoulders of KC, but in conversation he's a very modest guy. After I introduce myself, he thanks me for coming and hopes I enjoy the show.  I have to contain myself as a life-long Cramps fan, I'm feeling a bit fanboy and when he offers to sign my copy of the new vinyl live LP released in a limited run on In The Red Records – I'm not going to say "no thanks".
First time out, the band toured briefly last year with the Dracula Boots album, and the set tonight features a number of great tracks from it. But the tour is ostensibly in support of new album 'Gorilla Rose', again released on In The Red Records and due out at the end of May.
Dracula Boots was influenced by his past bands and by KC's Chicano Mexican roots; it's a blend of Mexicana rockabilly, strange tales and even stranger sounds. There's a cover of The Midniters 'Peanut', an apocryphal tale of what happens when you eat stuff off the sidewalk.
Live Kid Congo is joined by the fantastically named Pink Monkey Birds, Kiki 'El Coyote' Solis on bass and Ron 'The Cap'n' Miller on drums along with, new Pink Monkey Bird, Jesse 'The Candyman' Roberts (from Seattle's The Ruby Doe) on guitar, keys and vocals firms up Kid Congo's squawking flock.
The opening numbers tonight, 'Bubble Trouble' and 'The Ruin of Others' are taken from the new album Gorilla Rose.  By way of an introduction to 'La Llarona', Kid Congo asks, "Does anyone believe in ghosts? This one's a ghost story that takes place along the banks of the Rio Grande". Cue some eerie slide guitar from KC, and Theremin from Jesse Roberts.
'Black Santa' is a strutting instrumental, which gets the room really moving, but it's a prelude to one of the real highlights tonight, a cover of The Cramps, 'I'm Cramped', "That one's dedicated to Lux Interior, wherever he is" says the Kid.
Then they launch into a frankly brilliant version of The Gun Club track, 'For The Love Of Ivy', just to give equal measure to the other half of The Cramps, Poison Ivy.
'Gorilla Rose' the title track follows, it's a killer intro, it has to be, as with all title tracks, you've gotta set your stall out. Named after LA scenester and influence to LA punk band The Screamers and on Kid Congo too, it's a fractured, frantic blend of krautrock, rockabilly and swamp blues.
Then unexpectedly, another Gun Club classic, 'Sex Beat' follows on its heels. As the temperature in the Deaf Institute soars, we're left with one more before KC briefly departs the stage. "It's a requirement in the rock genre" Kid explains, "This song is about the place where I live, the Capital of the USA, but as I call it LS-DC". It's a fuzz-soaked garage classic, the Theremin squeals and Kid implores "Como se llama, MAMA!?"
I don't know about you, but I think Kid Congo is a legend, and a very modest man to boot. I'm glad he's still around to get the recognition he deserves.