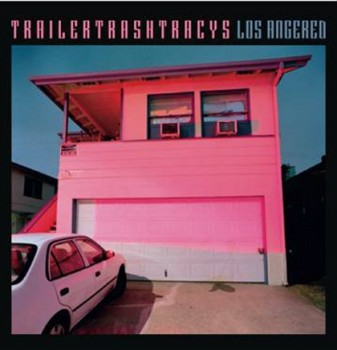 At the beginning of the year London quartet Trailer Trash Tracys released their debut album "Ester", a gorgeous, beguiling collection of pop songs with an intriguingly offbeam slant which quickly earned them glowing accolades from the broadsheets to the style press. The intervening months has only seen their profile grow exponentially, as they have journeyed around Europe on arena support tours and their mesmerising headline dates, centred around the sulphurous "Los Angered" – a cosmic fusion of 50s pop refrains and waves of drum machine patterns washing against Suzanne Aztoria's intoxicating siren call.
Released on May 7 on Double Six, it is joined by another opportunity to familiar yourself with the quartet's "You Wish You Were Red" (100,000+ YouTube views: http://youtu.be/Zztx7FBMr04), which has been recently seducing new followers after featuring on recent Renault commercials.
Alongside the release come a string of UK and European headline shows, including a headline performance at Hoxton Bar & Kitchen on May 8. Other than occasional one-off performances – including a private performance at David Lynch's club, Silencio, in Paris last month – this will be the first opportunity for those on the continent to see the band since they supported the Vaccines on their European tour in November.
TOUR
May
8 – London, Hoxton Bar & Kitchen (UK)
10 – Manchester, Deaf Institute (UK)
11 – Bristol, Thekla (UK)
12 – Glasgow, Captain's Rest (UK)
20 – Amsterdam, Paradiso (NED)
21 – Paris, Divan Du Monde (FR)
22 – La Rochelle, La Sirene (FR)
23 – Lorient, Le Manege (FR)
24 – Nantes, Stereolux (FR)
26 – Brest, La Carene (FR)
The debut LP "Ester" is available now on Double Six