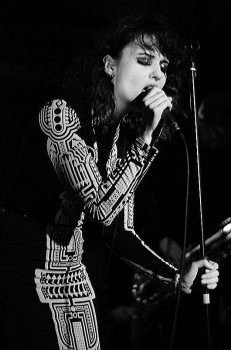 – THE RUBY LOUNGE, MANCHESTER –
Tonight's Ren Harvieu gig at the Ruby Lounge is a sell out. Her history reads like one of those true life stories you get in the middle of Closer Magazine.
"A shy girl is born and raised in a gritty Northern town.  The daughter of a singer father, she discovers her unique voice in her mid-teens.  The girl enters a few local talent competitions, and after a taste a town-wide stardom she embarks on a musical theatre journey at sixth-form college. Only, she's told that she'll never be good enough for the big school musical productions. 'Fuck em' she thinks and uploads some DIY tracks onto MySpace. A miracle then happens, a manager from the musical city of Liverpool stumbles across her page.
In 2011, just before she turns just 20 years old her debut album is complete, and collaborations are lined up with the American rapper, actor and songwriter Nas and an appearance at Glastonbury Festival. Before she starts on what could be the most important year of her life, she is involved in a freak, life-changing accident. With a broken and dislocated back, the doctors fear she could never walk again. In summer last year she walked out of the hospital and is now on the road to recovery…….?"
Following support slots from Danny Roberts of The Sixteen Tonnes and The Fossil Collective, Ren's 5-piece, all-male band take to the stage at almost 9.35, without Ren. The crowd's on the older side of the spectrum this evening, there's probably a few relatives and friends of the family knocking around to see to the Salford-girl play on home turf. So, can the delay be down to some pre-performance nerves? After all, this is the first gig, of her 5-date tour, in front of many local faces.
The band kick off the night with Trust in Me. As the drummer, guitarists and keys jam together; the dude on the flute steals the song, building up to Ren's grand entrance.
Late last year, Ren was included in the BBC's Sound of 2012; the Beeb's predication of what's going to be hot in the music world for the next 12 months. Although Michael Kiwanuka took the crown, it's '11 winner Jessie J, whose style Ren takes a few tips from tonight. She shimmy's in to finish the song, dressed in a stunning full-length monochrome, tight -as-you-like Aztec print dress, topped off with some Converse sneakers, the way Lily Allen use to rock it.
Her impressive debut single Through the Night sees Ren display her seductive mannerisms, with smoky eyes and clenched fists at just the right dramatic twists and turns. The lady's heavy influence of vintage Disney soundtracks and scores from epic films from yesteryear, couldn't be more evident than in this track, which is seamlessly performed and beautifully theatrical.
Mr Flute man changes to the sax for Tonight. Throughout I can picture Ren on a cabaret stage in a smoky Vegas bar, dressed in a Jessica Rabbit- style glam get up, belting out that big voice as a mini orchestra play below. Between songs, Ren looks frightened to death, but as For You, starts with the rumble of a thumping drum beat, Ren switches into a bewitching, temptress, with swaying hips, sexy pouts and a powerful high note to end the number.
With minimal banter between tracks, Summer Romance proves that whilst a backing track adds weight to the songs and mirrors the album, I can't help but think how awesome a little string section would be as part of tonight's line up. The track builds up to a gorgeous, yet pop-tastic ending. Reminiscent of an 80's 'guilty pleasure' ballad. Deffo a Radio 2 pleaser.
The bulk of the band shift off stage, and leave Ren to a familiar set-up of just her and the keyboardist. On the opening notes, the crowd erupt in screams and woops and then fall to an eerie silence, as Ren performs a completely stripped down, mesmerising version of Roy Orbisons' Crying. Draped in blue spotlights, her high-notes and kohl-smudged, sparkly eyes that are transfixed in the distance turn this rock and roll ballad into a haunting love song.
Ren checks with the drummer that the next track is indeed the last one and visibly counts herself in. Again, Ren switches off the worries and delivers a storming, stringed finale of Open Up Your Arms. The backing band have been absolutely stunning tonight and without overtly expressing much, have offered a lot of support to Ren over the last half hour. Devoid of much crowd interaction or eye contact all night, she scans the room on the instrumental breakdown, almost as if she's been afraid to acknowledge the sold out room all night.
It's a very swift goodbye and we're all done and dusted by 10.25.
Her limited experience of performing live and shyness shows tonight. Combined with a swift performance that feels like it had been stage managed within an inch of its life, there's been little space for Ren to show off little else more than her stunning voice.  However with age, talent, smouldering style, and THAT set of lungs her side; mixed with her classic, timeless, yet original sound, these minor bugs can be ironed out. This is one lucky lady who's set for massive things.
Photos courtesy of Emma Davies www.facebook.com/Emma.Davies.Photography