The Ritz seems like a wholly appropriate venue for tonight's gig by Ren Harvieu. The Grade II-listed building's art deco features, red velvety curtains, glitter ball and sweeping horseshoe balcony are a suitable setting for a singer whose cinematic songs hark back to an era of iconic Brill Building pop stars and evoke romantic images of 1960s dance hall glamour. I hear earlier in the day that some tickets are available on the door, but by the time Harvieu takes to the stage the venue feels packed, suggesting that The Ritz is just right in terms of size, too, for a gig at this stage of her career.
Two hours before Harvieu's performance, an already-sizeable crowd has gathered by the stage to see THE SUNDOWNERS play their half-hour set. A youthful Liverpool five-piece, the band revels in a 1960s US West Coast sound with its Byrdsian, Rickenbacker-led songs. It's melodic and rousing music, also recalling early Bangles thanks to the voices of the two frontwomen, who both sing lead vocals. Sometimes the girls double up (on separate microphones) for the entirety of a song, but for the most part they alternate on lead vocals from song to song. Chiming, up-tempo rhythms dominate the set, with certain songs featuring two acoustic guitars as well as the electric lead. Occasionally they get bluesier, such as on 'Roll the Dice', which in groove as well as title, reminds me of The Rolling Stones' 'Tumbling Dice'. A confident performance from a band that already has plenty of experience playing together and is very well received by the crowd. The band's debut single, 'Hummingbird', is set for release on 3 December.
Next up is LEWIS WATSON, a kid with a guitar and dressed in blue jeans and white T-shirt. His polite and friendly manner seem to belie the heartache in his lovelorn acoustic songs, bringing to mind the sound of Ed Sheeran or a more pensive Paolo Nutini. An EP, the aptly-titled Another Four Sad Songs, is set for release later in the month, and Watson plays some of its songs tonight, as well as 'Windows', '#3' and a song about drinking in the park, a subject he thinks is okay for him to sing about since he only looks about twelve.
The floor and balcony of The Ritz are now jam-packed with expectant faces waiting for the arrival of REN HARVIEU. All eyes are on the mysterious black door with the painted red arrow at the back of the stage. Members of the audience glance down at watches and mobile phones as Harvieu's stage time comes and goes, and my impatient gig companion asks "what's she doing?". "Diva stuff?", I offer. Harvieu is only a few minutes late, but the audience is very keen for some more music! Before long the three-piece band has emerged and begun playing opening number, 'Tonight', just as wild cheers greet Harvieu's appearance on stage. Wearing a classy hat and flowing red-and-black evening dress, she certainly looks the part, and the crowd reaction suggests that putting up with the extra few minutes of no live music had been well worth it.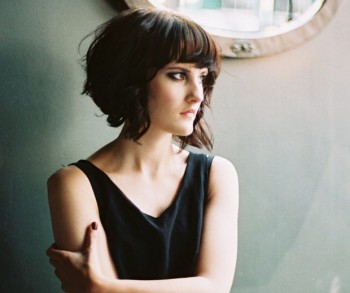 The sound is mixed well and Harvieu's vocals project well across the venue with a nice clarity. I had attended a BBC Philharmonic recording featuring Harvieu a few weeks before tonight, and her voice was nothing short of clear-as-a-bell stunning in a room with excellent acoustics. Tonight the vocal sound is not far behind, soaring sweetly on second song 'Through the Night', the title-track from her 2012 debut album. Harvieu's between-song interaction with the crowd is sometimes in contrast with her confident, sassy command of the stage and powerful voice, as she shyly composes herself to introduce 'The Train Song', a tune she recorded with "a supermodel from Oldham" (Karen Elson).
That said debut album (released in May), with its lush production and sweeping pop orchestrations, has prompted some to draw comparisons to such 60s divas as Dusty Springfield and Cilla Black. For me, though, what separates Harvieu from other modern-day retro pop balladeers like Winehouse, Adele and Duffy is that she's the one that may just have gone down a storm at the Grand Ole Opry alongside Patsy Cline and Hank Williams. But Harvieu didn't grow up entertaining her family with rainy-night living room songs in Nashville. She's actually from just down the road, from Higher Broughton in Salford. The Nashville reference is certainly misleading because there's no twang in Harvieu's live performance. In fact, most of the songs don't feature any guitar at all, with the "nice lads" in her band laying down a predominantly keys/bass/drums backing. There is, though, something in the voice that, for me, brings to mind some country music.
Although shy, Harvieu is full of warm northern charm and dry wit, keeping the crowd amused between songs. Manchester tonight, her home-town gig, is the big one on Harvieu's current UK tour, and early in her performance she excitedly tells us, perhaps even reminding herself, that "you've all come to see me!", pinching herself out loud. She keeps seeing people she knows in the audience ("Rory!", "mum!", "dad at the back!", "auntie Joan!"), and she introduces her song 'Do Right by Me' as being about her insecure 18-year-old self, but "let's not get too deep, I haven't had a drink yet," she smiles. 'Love Is a Melody', with its soft, playful verses, was the last song added to the album when she was age 21, she tells us, with all of the other songs done when she was 19, which she cheekily says annoys her because she's a better singer now.
There was no encore planned after the closing 'Open Up Your Arms', but the houselights stay down and so the crowd stick around, clapping, foot stomping (an encore tactic that always works well on The Ritz's bouncy floor) and whistling for the band to return. Back on stage, Harvieu mentions a few songs she knows including a Rihanna number and 'Something', the George Harrison tune. The crowd want 'Something', and Harvieu's take on the song effortlessly brings out its lovely melody. She certainly doesn't shy away from covering some of the biggest names in popular music, also performing 'Crying' (Roy Orbison) tonight, and she has recorded 'Sister Morphine' by The Rolling Stones. Harvieu seems to have the talent to one day be spoken of alongside some of the legendary singers mentioned in this review. Local heroes Johnny Marr and John Cooper Clarke seem to think so, and I so hope she does it too. Big up the local lass.