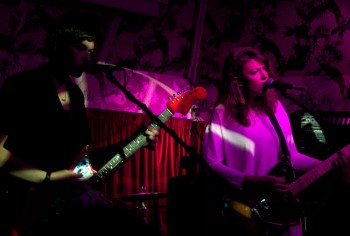 – THE DEAF INSTITUTE, MANCHESTER –
3rd time lucky. 2:54 have a habit of playing in Manchester when I can't be there to see them. Their 4 track Scarlet EP has racked up an obscene amount of plays in a relatively short space of time, my only hope is that this lengthy buildup isn't met with an anti-climax.
Parma Violets support, the young looking band have gone for the t-shirts and black suits look. The keyboard player has brought his lamp with him. The guitarist on the right is excitable, goading their mates at the front and spouting lyrics, Wu Lyf style… coincidence or no, Wu Lyf's lead singer is in the audience tonight. Some of the songs impress, but the similarities to The Walkmen run too deep to get them out of my head. It's enough to make me consider whether some of the songs are actually cover versions. If I'd never heard The Walkmen before, I'd be more into this than I am. A bit of individuality from this fresh and talented band might just be all that's needed to take them further.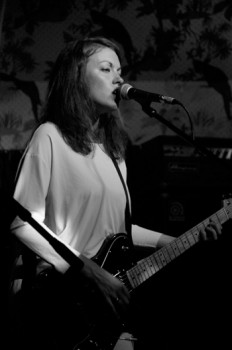 The Deaf Institute light show is now in full effect, utilising the massive mirrorball with a few snazzy lasers. There's a decent crowd here tonight, especially considering only 5 tracks can be found online (aside from the amateur YouTube gig footage). 2:54 start slowly, 'Cold Front' and 'Salute' ease us into the gig, the crowd stand still and pay full attention. Will there be a quiz on this afterwards? There's complete silence between songs, after the ample applause has died down.
New single 'You're Early' chugs along nicely, the bassline is deep and moody and the pounding drumbeat drives all forward. "I've been watching… I've been waiting… for you". Lead singer Colette Thurlow pouts and snarls from behind the microphone in her loose fitting white dress, talking like a slightly nervous Liz Hurley between songs. Sister and lead guitarist Hannah cooly runs through the riffs, throwing in the odd 'St.Vincent' sounding guitar solo. There's a lot of restraint on display and there's a broody, dark atmosphere that strikes you as the set continues.
'Easy Undercover' has a Clinic vibe to it, chugging along until it's stripped back to bare minimum, before coming back stronger. 'Scarlet EP' tracks follow and are the highlight for me (due to familiarity). 'Wait/Awake' and 'Scarlet' have the most memorable vocal lines, like a cross between Wye Oak and Widowspeak. Personal favourite 'Got A Hold' doesn't feature, which is the only disappointment of the night.
They briefly break the shackles during the final 3 tunes, cranking it up during 'Sugar' and putting their foot on the gas for the thrilling 'Sides'. 'Creeping' ends the proceedings with a sufficiently understated tone. The crowds enthusiastic applause delight the band as they walk off the high stage, appearing almost caught in the headlights with the response.
2:54 know how to build plenty of tension and have enough discipline not to go excessively crazy. This proves to be an effective weapon… herein lies their genius. They're impressive, without needing to try too hard.
The debut album, released on May 28th through Fiction records, is hotly anticipated.