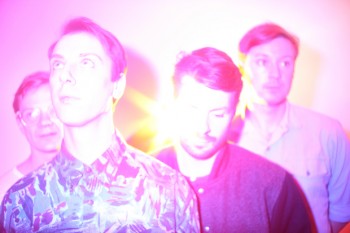 Django Django are a bunch of genre-flouting, clever buggers.
The Django's, Dave Maclean (drums), Vinny Neff (vocals/guitar), Tommy Grace (keys) and Jimmy Dixon (bass), have been at it since 2009, but only this January they released their debut, self-titled album 'Django Django'. It's been giving all the new- music aficionados out there big, fizzy knickers.
The sound's an impressive pick 'n' mix of electronic beats, a good old dollop of samples, part indie, part pop, with blended harmonies and trippy psychedelic twists. Delving into Django Django is like opening a fresh tin of Quality Streets on Christmas morning, if you don't like the Purple one you can always suck on a toffee finger. What's most exciting is that this is only the beginning of what we're going to hear from this bunch of bedroom music-making geniuses.
Fresh from an exclusive performance at a Chanel party during the recent Paris Fashion week, the band are ripping it up stateside. On the road to South By South West, the Mecca of new music, I catch up with Tommy Djangle.
We cover such bases as, living in an art school bubble, space-apes, dressing gowns and Chris Issak's new condo….as you do.
Vic: Wha'you up to?
Tommy: Nursing a hangover. Last night was an uncharacteristic party night for the Djangos.
V: Anna from Metronomy actually tipped me off. She said "I recommend that you see Django Django…. I'm enjoying their new album very much."  How lovely's that?
T: Ha! Anna's great–and what excellent taste! Metronomy have been awfully kind to us of late, asking us to support them on a string of great gigs that culminated at the Albert Hall. Qule dudes.
V: How do you pronounce Django Django? Does it rhyme with banjo?
T: Yep, like quando quando, jingle jangle, bingo bango.
V: Are Django Django so good you named it twice?
T: Yes Yes, and with our eponymously titled album, you can count that four times.
V: What's all the fuss about? It's like Django Django have popped out of nowhere and getting everyone all excited…
T: I guess the album [Django Django] finally dropped (in January).  Yeehah!
V: How long was the new album in the making? What was the grand plan with it?
T: It's been three years. Dave (our drummer and producer) has a pretty louche approach to production that generally involves him shuffling about his house in slippers and dressing gown.
But it has been shit loads of work. When you've no money and your studio is your a bedroom but you're wanting to create something that sounds like it was made a million light-miles away, you need a bit of patience.
V: On the album track, 'Hand Of Man' there's a tiny bit of mobile phone feedback. Who's callin'?
T: It's a call of nature.
V: The BBC described you as "Genre-defying beat-pop that occupies the middle ground between Hot Chip and The Beta Band", The Guardian said "updated psychedelia that beguiles and delights". Your turn…
T: Space-Ape.
V: I couldn't get a ticket for your recent stint of gigs for love no' money round these parts. With the February mini-tour selling out, what was the ratio of you lot pooing your pants with nervousness / excited?
T: 50/50.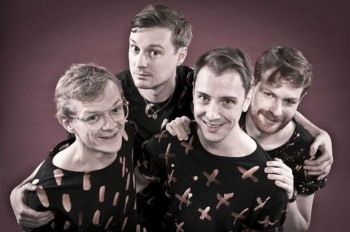 V: You all met at the Edinburgh College of Art. What were your big career plans whilst you were in art-school mode?
T: Well Dave and I set-up a gallery after we left college with a group of other graduates (www.embassygallery.org) but we were never really cut out as gallerists. We did that for three years though showing artist's work who we liked and putting on events and party's. It didn't seem like much of a career plan at the time but I guess we learnt a lot about the importance of being self-sufficient that is crucial to how we approach the band.
Vinny, however is a proper qualified architect! Seriously–We happened to bump into Chris Issak (shameless name drop) recently on a French TV show and he was like "you gotta come round and put an extension on my new Condo in LA…"
V: Do you feel you were well prepared for the big grown up world when you left uni?
T: At art school you're taught to question everything, and you're in a bubble and you're introduced to all this amazing stuff and then you graduate and the rug's pulled from underneath you. It can be messy.
V: With sky-rocketing university fees, do you think a degree is necessary to achieve creative ambitions?
T: A degree may not be that helpful (think I lost mine on graduation day) but it was a way of meeting people with similar ideas to yourself, and it was my friends more than anything else that I found the most important part of my time at Edinburgh. I suppose you can foster that sort of community in other ways though, that don't involve ridiculous tuition fees.
V: How did you all end up in London?
T: All separate reasons. I came down with my girlfriend as she was doing a sculpture MA at the Royal College of Art. Dave came down to do an MA at Chelsea, Vinny came down to find work, Jim I think was just looking for a change of scene.
V: You're creative vision stretches beyond your music and plays a strong role your output; from your artwork to videos. How important is it to have your creative stamp running through everything you do?
T: Very important, and doing it ourselves was always just the obvious way to do it. It would seem weird for it to be any other way. But we don't do everything ourselves, part of the great thing about being in the band is getting friends who's work we love to design sleeves and stuff for us.
V: You've just been confirmed to play this summer's Parklife Festival in Manchester, alongside Ghostpoet, Kelis, Tempa T and The Flaming Lips, that's quite an impressive line-up. Imagine that on your CV…
T: Dizzee! Kelis!! Chic!!! DE LA SOUL!!!! Going to be amazing, hopefully get to catch plenty of it.
V: Much like Miss Anna from Metronomy.  Who should I absolutely check out? Your suggestions will dictate who I go speak to next. Like a game of musical tag.
T: Friends please. Missed them in London recently. Great band.
—————————————–
If you missed Django Django last time, be quick and get a ticket for a date on their upcoming full UK-Tour,
May 31 – The Cellar, Southampton
June 2 – Field Day, London
June 5 – O2 Academy 2, Oxford
June 6 – O2 Academy 2, Birmingham
June 8 – No Direction Home at Welbeck Abbey near Sheffield
June 9 – Parklife Festival, Manchester
June 10 – Rough Beats Clapham, Yorkshire
June 11 – Fibbers, York
June 13 – Doghouse, Dundee
June 14 – Cockpit, Leeds
June 15 – St Pauls Church, Cambridge
October 31 – Heaven, London
For more of this clever lot, get on their interwebs here: www.djangodjango.co.uk