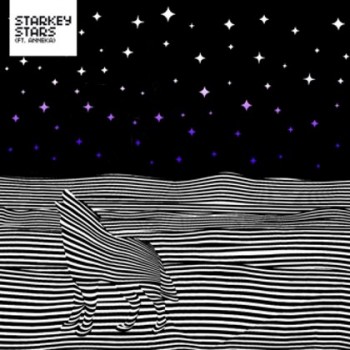 Philadelphian producer and general musical wizard Starkey, brings us a 4 track EP, giving us another team up with vocalist Anneka, two solo ventures, and a remix from Slugabed.
After catching his recent appearance on Mary Anne Hobbs Experimental Show where he teamed up with Anneka and Reso to build a track from scratch over the duration of the program (the track entitled Moments of Mine is available for free download on the MAH's section on the Radio One website, and the show itself is well worth a listen); after hearing what this man can achieve in two hours, I was excited to see what Starkey had in store for us next.
Lifting you up from the first chord, the title track Stars sees him team up again with the tender vocals of Anneka Warburton, forming a beautiful partnership between her warm lustrous tones and Starkey's masterful synthesisum and production skills. This is through and through a feel good track, my only criticism being that it's too short, teasingly coming in at only three & half minutes.
Slugabed goes on the attack with the remix, taking apart the original and reshaping it with his unique style. This man is causing some serious vibrations at the minute and rightly so. Similar to Stakey, Slugabed has hammered his own footprint into the scene in his own unique style.
Clever use of the original's vocals and synths builds the intro, crashing open into a powerful two step rhythm, the wicked drum work and exploding bass working hand in hand to keep the bass bins moving.
The Flipside brings us two more solo gems from Starkey. First up is Starting Gates, my favourite track on the EP and well worthy of its own release. Sneaky horns and key lead up to an explosive drop. Basslines, sirens and that Starkey synth sound melt into a chorus set to destroy any dance floor (watch out for the second drop otherwise it'll take you by surprise).
To round things off, Starkey takes it down a notch with Millennia where a spaced out intro, carries to you into a beautifully bodied chorus, the chord stabs crying out and replying to one another as you float along the beat. This is a beautiful piece of music.
Yet another quality release from the planet Mu camp, and more proof that Starkey's on his way to becoming an unstoppable force in the world of Dubstep. The "Stars" EP covers all the angles and is well worth that light feeling in your wallet. It stands as a prelude to his forth coming album "Ear Drums and Black Holes". I can't wait!
Listen: www.myspace.com/starkey
Love: www.planet-mu.com
Buy: www.boomkat.com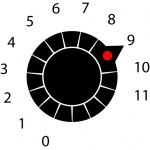 Release Date 08/03/2010 (Planet Mu)