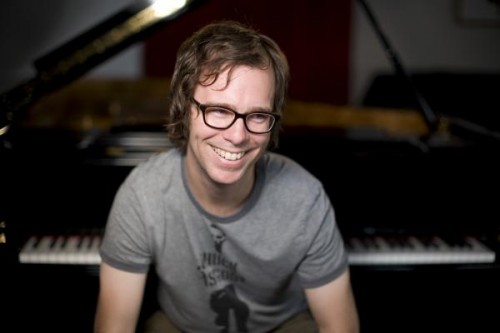 – THE APOLLO THEATRE, MANCHESTER –
I heard Ben Folds' Five's 'Underground' on Mark Radcliffe's Radio1 show back in 1995, but I've heard virtually nothing in the interim – during which Folds has ditched the Five, and worked with a variety of musicians, including Regina Spektor, Elton John and Rufus Wainwright.
This tour showcases his new album 'Lonely Avenue', with lyrics by Nick Hornby (author of several novels including 'About a Boy' and 'High Fidelity'). The songs from 'Lonely Avenue' seem to take a step up from the older material, as Folds takes on a variety of characters, including the self confessed redneck of opener 'Levi Johnston's Blues', and the fictional 70's pop star who nightly has to sing about his ex-wife in 'Belinda'. These are expertly told tales, filled with character and humour – yet they never threaten to descend in to comedy or pretension. It's refreshingly rare to hear something that blends narrative, poetry and poignance – and music – in such a fine way.
It's wonderful to witness what happens when an artist with talent makes the best of their potential, rather than just hearing the endlessly recycled flavours of the moment. It's exactly this which means that Ben Folds defies comparison – he's unarguably Ben Folds, even when he's telling Nick Hornby's tales. He's funny, he's energetic – on his feet more often than not – but his penchant for smacking his piano keys takes me very much by surprise. That he even throws a stool at an instrument worth thousands of pounds surprises me even more (and brings back some bad memories).
In a live setting, Ben Folds' playful yet deeply musical approach shines through; his cover of Keysha's 'Sleazy'  is very amusing, but also actually a nice song – I've never heard the original, but my girlfriend assures me that "all Keysha stuff is wank", so credit again for his work (as he puts it) 're-harmonising' it. Mid show, he introduces Kate Miller-Heidke, who combines her obvious classical training with her understated approach to pop singing. Their fantastic performance in duet 'You don't know me' is the best of the night, taking the original to another, tear-jerking level, and including an incredible finale reminiscent of the opera scene from the film 5th Element (without the blue skin and silly dancing).
By the end of the night I am reflecting on by far the best gig I've been to over the last year, and the best gig of its kind I have ever seen – so if you'll excuse me, I've got fifteen years worth of Ben Folds to catch up on.