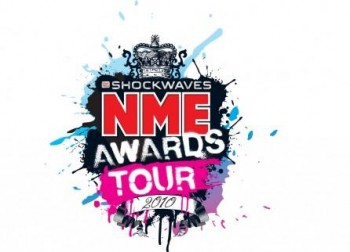 – ACADEMY 1, MANCHESTER –
I've never been too sure whether to love or hate the NME. On the one hand the NME is frequently guilty of touting substandard bands, hyping them to the hills' highest hillbillies, only to stab them in the back when they realise that no one actually likes them. The hype drive is permanently stuck on warp 9. Even worse, it's guilty of unleashing some of the most terrible, anal prolapse-inducing bands that upsettingly go on to achieve massive mainstream success. I will never ever forgive them for unleashing The Kaiser Chiefs, a band who are so one dimensional, so bland that if you look at them side on you can't even see them. It's not surprising then that the Awards Tour is sponsored by Shockwaves, suggesting that the mag is all style over substance.
On the other hand, a lot of the bands to come through on the shoulders of the NME have been some of my favourites of the last ten years: to name but a few, The Libertines, Crystal Castles, The Strokes (I could go on). And the one thing I hate more than the NME hype machine are those people who slag it off uncritically, especially when secretly they love it.
The best thing to do is to be seen slagging the mag off to all your friends, who will nod approvingly, but steal crafty minutes alone together in a corner shop so you can mentally note who to keep an eye on. Astute no?
With this in mind, I know tonight's show will exhibit some of tomorrow's biggest bands. Some will be hated, others will be loved, but all will be talked about (which, as the old saying goes, is the most important thing).
Firstly, my apologies. Due to my bastard computer deleting a ten minute interview with Bombay Bicycle Club, I missed The Drums. I hear they were good.
The Big Pink, who are up next, are surely set to be one of Britain's biggest bands over the next five years. Their nu gaze sound is heavily reminiscent of My Bloody Valentine and The Jesus and Mary Chain, each song accompanied with a wall of distorted noise, carefully synthesised beats and drones. All of which should create an oppressive, depressive atmosphere, but as with Velvet, the sound becomes euphorically uplifting. It's pitched well. It's out there enough to be acceptable to alt. fans, but it's also incredibly well crafted, produced and accessible managing to be both chart friendly and credible – a rare thing. They are, in my humble opinion, simultaneously the best and most unpopular band of the night. But why should they care? They'll be in the Apollo next tour no question.
Bombay Bicycle Club is tonight's most ordinary band, and I have to stress that this is NOT a criticism. They are ordinary in the sense that they play scratchy guitar songs that owe more to the last five years than anything too forward looking, and in the sense that they are just four ordinary guys who made a band without a trace of pretension. Talking to them before the show (interview to follow) they also came across as tonight's most likeable band. They are without ambition, looking to see where their experiences will take them, oblivious and uncaring of their obvious popularity, simply looking to enjoy themselves – sentiments not to be sniffed at. Finally, they are also the night's most popular act, their fans banshee screaming through much of the set over Jack Steadman's Devandra Banhart-esque vocals. Evening/Morning and It's Always Like This are particularly well-received. With these guys it's hard to say where the future will take them, but I don't they worry about that.
The Maccabees is the headline act. Now they are undoubtedly a fine outfit, and one that is probably at the height of its game and popularity. Love You Better and Can You Give It are both brilliant…truly. But, their popularity is almost entirely due to the fact that they sound like a marginally inferior version of The Arcade Fire, and I fear that when The Arcade Fire inevitably return with their next album, it will leave us bereft for love for The Maccabees. In terms of popularity they have peeked, and it's downhill from here. I hope I'm wrong.
On the basis of tonight's high standard I would have to say, albeit guiltily, that we should love the NME for putting on such a fine collection of acts for £15. They're all heading in different directions, and the enjoyment of such a night is following the bands after, on their respective careers. Who will we love and who will we hate? Time, as always, will tell.