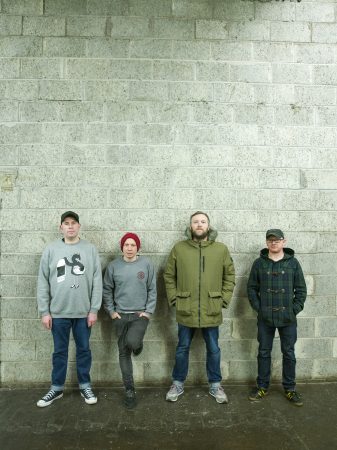 Writers, me included, have been tripping up over our words trying to describe Mogwai's sound for decades. We can go on endlessly about their ability to create huge sounding records, matched with a delicate side to their craft that's just as spellbinding, yet at the end of the day, they're four down to earth blokes from Glasgow, all Celtic fans, whose last album made it to number one in the album charts in 2021 "I think I was putting the bins out when we found out" says Stuart  Braithwaite, guitarist and vocalist with Mogwai. "My wife was really helpful, she was helping with a lot of social media stuff around the release. I think we were also just about to take the dogs out, so we just had a very jaunty dog walk! We messaged a lot of our friends later on though, so it was definitely a very fun week!"
Mogwai first burst into an unexpecting music world in 1997 with the 'Mogwai Young Team' album, which was rapturously received and heralded a new dawn for what indie music could be. Theirs was built on the atmospherics of soaring guitars and electronics with sparse vocals. Nowadays, I can see comparisons to Can, Neu, and also many psychedelic bands of the sixties, but my younger self in the 90s just heard flashes of Sonic Youth mixed with Slint, and I was fully on board. They were a band making music out of this world, yet with their feet still firmly on the ground, clearly hard working and a band who knew what they wanted when it came to doing things differently, but also a band with a keen sense of humour, who were also completely taken aback by how serious people took their music in the early days. 
Now they're about to celebrate the twenty fifth anniversary of that debut album, and when it comes to their opening track 'Yes I Am A Long Way From Home' with its spoken word intro attempting to describe the Mogwai sound, Braithwaite remembers the astonishing responses that greeted their early music. "That female voice  was a friend of ours called Mari, she was reading out a review or a preview of our gig in Bergen, Norway which was our first ever tour outside of Britain. It was really hyperbolic, and somehow funny to be honest. It's funny because it reads as almost like a manifesto or something, and we were just pissing ourselves laughing that anyone would take our music so seriously! It's like a weird, self-fulfilling prophecy, cos loads of people take our music seriously now (laughs!) At that time it was funny, and I'm sure you get it, as Mancunian humour and Glaswegian humour is very, very similar. We just don't take ourselves that seriously!" Although they're always really grateful and glad when people do connect with their music, Mogwai's spellbinding tunes often sound as though they're beaming in from another galaxy, such is the huge sounding spacious melodies created by the Glaswegian guitar band. "That's the other thing," Stuart adds "it's just music which has a bit of a different sound. Something to just take you somewhere else for a bit. I quite like music that has elements that are unexpected, I grew up listening to stuff like The Orb, with just weird kinda out of place samples which always kind of confuses you in a good way!"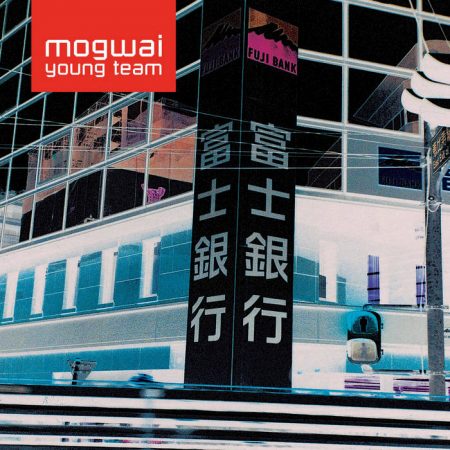 With 'Young Team' celebrating its twenty fifth anniversary, and 'Come On Die Young' also getting the remastered treatment, both re-released on 10th February 2023, the albums remain pieces of work to be proud of, but from a song writer's perspective, there's always the urge to change things as Stuart admits "I used to think like that, but now I think I've made peace with it. Records are a snapshot in time. It's like I wish I could go and do my English Higher again as I've now read a lot more books. I think that you've just got to accept that the albums are a snapshot of where we were at that point. I mean, I'm really proud of them as well you know, I'm kind of amazed that we got all that stuff together."
The early 90's were a huge influence on Braithwaite and the rest of the band, with Reading 1991 being his first festival. I was also in attendance for what was a Friday line up we both agreed was one of, if not the, best festival bills ever, watching Babes In Toyland, Nirvana, Dinosaur Jr, Sonic Youth, Iggy Pop and more all on one day. Many music fans of a certain generation  in Manchester always reminisce about that Pistols gig at the Lesser Free Trade Hall inspiring many a musician and writer, but it feels as though Reading 91 was also just as inspirational for a generation. I started a zine and made my first tentative steps into music writing shortly after, and numerous others formed bands, Braithwaite included. "Yeah I think it was inspirational. It was probably because all of the bands were kind of at the peak of their powers. Maybe I've seen more classic bands on one bill, I probably have, but not where they're like blowing up. Especially Sonic Youth at that time, it was peak Sonic Youth wasn't it? That was just after 'Goo'. You know what, and I mention this in the book I think, the video of that tour 'The Year That Punk Broke' (Sonic Youth's amazing tour documentary from 1991), was one we would just watch religiously. Then we ended up doing the same circuit, pretty much, five or so years later – it was like a real pinch yourself thing. We were doing what we actually dreamed of doing, you know, that was really special. When I was getting notes together for the book, and I was asking for people's recollections and stories, cos my memory wasn't that great, it turns out that Nirvana footage is actually on you tube now!"
As well as the upcoming reissues, in the last few years with more time on his hands than usual, Braithwaite finally got round to writing his aforementioned autobiography, the brilliant 'Spaceships Over Glasgow'. It's a book that captures his formative years, and sheer love of music, all written with Braithwaite's Glaswegian humility and wit. Recalling events from over twenty years ago sounds like a daunting task, especially if, as in Braithwaite's case, you didn't keep diaries, and have only your own memory and the odd photo to rely on, yet help was at hand "I'm still friends with pretty much everyone I knew from back then, so i just took them out for lunch, and just asked them what they remembered" he laughs. "I managed to paint a pretty good picture of events, by asking who I knew was definitely there. I decided to do it when there was still no live music, so what I would normally be doing wasn't an option. Also the publisher had asked me years before, so I double checked that he wasn't joking, and wrote a chapter, then just got on with it. It was kind of quite a strange way of doing something, but the timing and everything just sort of fitted."
"There was almost a song on the album called 'Taxi Jazz!"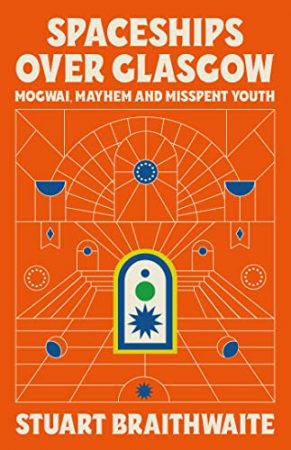 Every new Mogwai release not only brings the anticipation of their epic soundscapes but also the wonderfully ridiculous song titles which accompany them. It's as if there's some sort of competition in the Mogwai camp to come up with the most intriguing and inventive one, but the reality is much more mundane as Braithwaite explains: "We don't even think about it that much to be honest, we've just got a big pile of nonsensical, pretentious, song titles and then there's usually a debate about it. Although some of them are just so stupid that we think, we can't use that (laughs!). There was almost a song on the album called 'Taxi Jazz'! We just thought, that's too shitty for us, we can't use that one. There's usually more song titles than songs, we just find it easier writing song titles, than the actual pieces of music!"
Soundtracks have also kept the Glaswegian four piece busy, yet the art of delivering the perfect soundtrack is one which demands a shift in their musical approach "People usually just tell us what kind of music they want and then we kind of work it out. It is pretty different because you are working to someone else's instructions" he explains. "I mean we're still in a room trying to make music  but the basic premise is usually someone else's" . Picking which soundtracks to do has also become an art in itself, with the band usually just relying on their gut feelings about a project "It usually depends on the people." Stuart continues "the last one we did, the Blackbird one, Dennis (Lehane) the writer had done some really great stuff, he wrote Mystic River and The Drop. He just seemed really genuinely into our music, and it turned out a good fit. I think we just try and go on instinct, what the people are like. I think sometimes you can tell that they want someone else, and they couldn't get them! You can kind of tell straight away, how invested they are."
Having a number one album seems like another milestone conquered in Mogwai's upward trajectory, combined with more than twenty five years as a band, plus many gigs playing with the bands who influenced them. Looking back to the early years, Braithwaite admits that the only advice he would give his younger self would be to enjoy it, but that's something they did anyway "I don't think we ever took anything for granted". As the background noise kicks.in down the phone, Stuart admits he's actually just out with his wife getting a sandwich "Sorry, we're just getting a sandwich" he laughs, "that'll be a fascinating bit for your article!" What is more fascinating than Stuart's lunch (a chipotle wrap, in case you're interested sandwich fans!), is that there appears to have been a shift in people's music tastes over the years, it's as if more people have discovered the joys of more instrumental based music and have caught up with Mogwai's genius. However, Stuart offers a more humble theory "I also think a lot of it was to do with timing. We were still in a lockdown, so I think people  were turning to music a lot to try and help them get through it. It all kind of clicked into place, it was really nice."
Mogwai are an ever evolving music making phenomenon, a band who seldom use vocals in their work, yet manage to convey more excitement and beauty in their songs than should be feasible. After twenty five years, ten studio albums, numerous singles, soundtracks and compilation albums, with the reissues of their first two albums 'Young Team' and 'Come On Die Young' plus a large UK tour on the horizon this February, Mogwai have firmly cemented their place as sonic innovators and one of the finest bands to emerge from these shores. Could Stuart ever have imagined that all these years on, the musicians who inspired him, such as Iggy Pop, who Mogwai paid homage to on 'Punk Rock' the opening song on 'Come On Die Young', would be fans of his music? "No, absolutely not. One of those real dream come true moment things was that Iggy played that song on his show, it 's beyond any wildest dreams. It's funny how things work out!"
Mogwai play The Albert Halls, Manchester on Thursday 9th and Friday 10th February 2023.
The remastered albums 'Young Team' and 'Come On Die Young' are released on Friday 10th February 2023 on Chemikal Underground Records
Stuart Braithwaite's autobiography 'Spaceships Over Glasgow: Mogwai, Mayhem and Misspent Youth' is out now (White Rabbit Books).
Mogwai main photo by Anthony Crook.