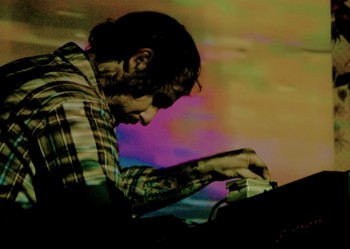 – THE DEAF INSTITUTE, MANCHESTER –
All the way from a basement in Wisconsin, the duo of Aaron Coyes and Indra Dunis finish their brief European tour in Manchester tonight, bringing their very young son Mikko along for the ride. Peaking Lights' homemade equipment, jumbled together from random bits of old electrical goods such as alarm clocks, effects pedals, radios and tape decks, has successfully produced the sound that's been gifted Piccadilly Records staff 'Album of the year'. Now Wave have beckoned them up north to help celebrate, before they head back to snowy north America.
Firstly, Leeds based support band Hookworms burst into life with 'Zig Zig Zag', the lead singer shouts repetitive lyrics with complete abandon, working up a sweat and most likely, a sore throat. They're like The Jesus and Mary Chain or Dead Meadow, with a hint of Bernard Butler's guitar and the determination of The Fall. The tunes grow and reach a peak before a change adds a thrilling twist, but they then peter out and overstay their welcome. The middle section of 'Medicine Cabinet' is startlingly impressive but the buzz is killed by the following extended wall of noise, resulting in muted applause. These, however, are definitely on my list of ones to watch.
Peaking Lights manage to successfully align their projection onto the back wall and casually begin, after adjusting a few cables and switches. The setup is very lo-fi indeed, Aaron is using a tape cassette deck for something, the rig that he's soldered together himself, along with his guitar (presumably made by someone else), separate him from Indra, who triggers sounds while singing positive, content lyrics that are bathed in heavy reverb.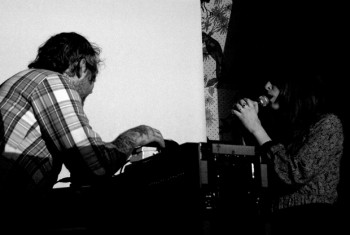 The flabby bass starts things off, they casually chat amongst themselves and with the engineers and the crowd… a little singing and guitar playing, press a few buttons, move some faders… it's as though we've been invited into their loft during a diner party. 'We've got a sound system upstairs, do you want to hear it?'. Aaron busies himself at his workstation, occasionally taking a swig of beer and making adjustments, exposing his heavily tattooed arms. Indra dances lightly from side to side, reminding me a little of the late Trish Keenan from Broadcast, who I saw on the same stage with a very similar setup, almost exactly 2 years ago.
The understated electro groove is incredibly hypnotic. A sudden, abrupt end to 'Amazing and Wonderful' feels like a slap in the face. Did the looped sample cassette run out? I'm back in the room. The projection is the only light source, displaying sunsets, landscapes, distorted white noise, primitive space shots and colourful psychedelia. The dubby 'Birds Of Paradise' is one of the highlights. "Hoo, Ha, Hey" sounds just great with the grinding bassline and light guitar picking. 'Hey Sparrow' adds refreshment and is the perfect warm up for the superb 'Tiger Eyes (Laid Back)'. After a warning that they'll probably "vibrate off the stage" it proves the stand-out tune of the set, inducing the crowd to go crazy.
'Summertime' bring us to an abrupt end, before they come back for an encore and play a new tune that's "half written". It sounds not far removed from the 936 album tracks and epitomises the night: Understated; groovy; casual and impressive. Their album deserves all the plaudits and the live show encapsulated the vibe perfectly. You'd be hard pushed to find electronic music that's more honest than this.