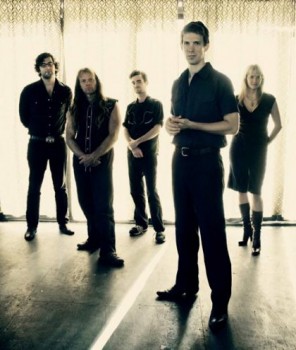 – THE RUBY LOUNGE, MANCHESTER –
Shearwater arrive on a cold February night in Manchester off the back of their latest release, 'The Golden Archipelago'. The five band members take up their designated positions on stage and the show begins – lead singer Jonathan Meiburg stands centre stage with a fixed and purposeful intensity and we are gently eased into their mysterious world.
There were slight concerns about how the band would be able to recreate the epic yet understated grandeur of their new record live, but any such thoughts are soon quashed as they leads us through the tracks from it with ease. While Meiburg's voice remains the focus of the band, it is the broad and varied sonic landscapes created by the rest of the outfit that really allows him to soar. 'Black Eyes' shimmers with a glimmering intensity and lets him demonstrate the full extent of his impassioned vocal range.
The band appears to change instrumentation in nearly every song, forever moving their soundscape onto newer horizons. Like Calexico and Midlake before them, Shearwater are a band that seems to create a mythical land for their music to exist within.
'Hidden Lakes' sees norse god-like drummer, Thor Harris, swap his kit for a xylophone and sounds like Mike Oldfield's 'Tubular Bells' being reinvented for an indie film soundtrack set in the distant plains of Southern America. 'Corridors' sees the band crank up the intensity once more and is dowsed in a cacophony of disjointed noise seemingly firing around the stage from all directions.
There is definitely a clear sense of Americana surrounding the sound of Shearwater, but an Americana that is perhaps not as rooted in tradition as its contemporaries. They're expanding their sound further towards a timeless and harder to define aspect of rural America.