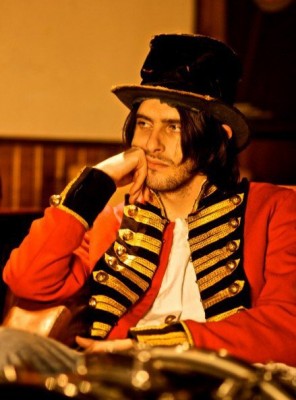 – THE RUBY LOUNGE, MANCHESTER –
Chris Long, a well known champion of local Manchester music through his work for BBC Manchester kicks of the evening by announcing this is the last BBC Introducing gig of 2010 at the Ruby Lounge. Christmas alarm bells ring loudly in my ears and the realisation 2011 is only a whisker away brings on a cold sweat. These feelings are quickly banished by several gulps of lager and the anticipation of what promises to be a great evening of free – yes free, music.
On comes the opening act of the evening, A Boy called Doris who in fact is actually a man called Tony Bolton. He has clearly dressed up for the occasion and wouldn't look out of place as an extra on the Mighty Boosh. His style is fitting for his music, different and quirky. It's a shame the crowd is thin on the ground this evening, I can only put this down to the shock of the freezing weather and people deciding to stay at home to hug their radiators. Time for the thermal pants to come out me thinks!
Following A Boy called Doris are Becca and the Broken Biscuits, who are the first of two acts tonight from independent Manchester record label Debt records. Debt have a strong ethos (like a co-op) about music and the industry it works in. It is obvious Becca and the Broken Biscuits are seasoned performers as leading lady Becca Williams quickly builds a rapport with the now growing crowd. They open with their new single 'Train Driver' which is an upbeat number reflecting on all the things Williams wanted to be growing up – strangely none being a singer songwriter. Although a biscuit down the music doesn't suffer and the double bass fits perfectly with Williams on guitar. The next few songs are of a much quieter folky nature which is more their style.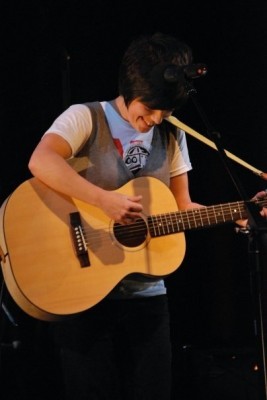 All the songs are beautiful observations on life and Williams' voice, incredibly powerful and clear for her small frame transports you with her. She begins telling the story behind her latest song 'Maria' which is about a man she met in Greece at a fiesta, not 'like that' she reassures us as we all raise our eyebrows and laugh again but more a Greek love tragedy between him and his lost love. It is indeed like this; my friend nudges me and says she feels like crying. This can only be a compliment to the song as it has everyone transfixed. Williams then surprises everyone with a cheeky little cover of a raunchy R'n'B track called 'Oops' by Tweet. She asks if we're ready for some filth and by the crowd's enthusiastic reaction we clearly are! I think everyone's feeling a little hot under the collar by the time she finishes-naughty. The set ends on another upbeat track called 'Devil on my Shoulder', bluesy and very energetic, it has everyone tapping along and the crowd whistle and shout their appreciation for what has been an incredibly fantastic 30 minutes of music. I would recommend Becca and her Broken Biscuits to anyone who appreciates genuinely good singing and song writing. They're not trying to be the new Florence and the Machine, what you see is what you get with the music and the band, no fancy extra's just flamin' good music.
After a quick dash to the bar the headline band of the night and the second act of Debt records are on, Louis Barabbas and The Bedlam Six. I'm amazed by how many there are, I count seven and feeling like a fool sees the connection between band name and number, hmm. Front man Louis Barabbas is sporting an amazing beard but all the band all look fantastic and you can't help feel they've just stepped off a horse drawn cart hailing from Texas 1900's stylee. I'm half expecting to see a tumble weed blow across the stage; if it does that would indeed be genius. They open with one of my favourite tracks 'Mother' which sets the tone for the rest of the evening. The sound is big, energetic and theatrical with guitars, trombones, piano, and drums etc flying all over. They avoid singing about love in the conventional way and instead play with the darker side of lust and deception – I love it.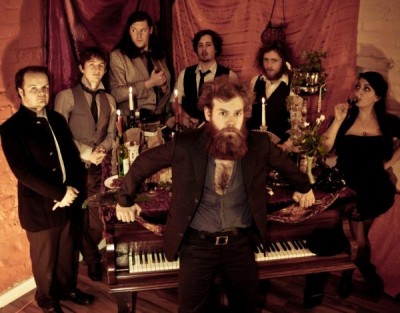 Barabbas commands the space on stage in true showman style. He punctuates songs with high kicks which I'm sure would get a 10 from any strictly come dancing judge, although personally I'm slightly worried about a wardrobe malfunction which would reveal a lot more Barabbas than I'd bargained for. The crowd are feeling it and most people are dancing in some way. For 'The Tell-Tale Hound' I decide I can't resist anymore and push my way to the front to jump away with everyone else. The atmosphere is amazing and by the time it comes to their last song everyone is cheering for more and people start banging on the railings, for a brief moment we think we're getting the encore we want as the band return to stage but unfortunately the Ruby Lounge DJ denies the band another song, disappointing Mr DJ. Despite not getting the ending we want I can sense the crowd are all very pleased with the gig. Louis Barabbas and The Bedlam Six are like nothing I've seen before and the music coupled with the performance are something definitely not to missed.