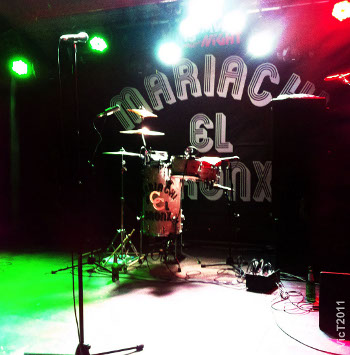 – SOUND CONTROL, MANCHESTER –
I've fallen in love with a Mariachi band.
Over the last few weeks 'Mariachi El Bronx' have been beeping all over the Vic radar. Guy Garvey's played them numerous times on his 6 Music show. And in exclusive Silent Radio interviews Norwegian folkies The Captain and Me told me how their new album was heavily influenced by the sounds of MEB; and more recently New York cuties The Pearl and The Beard gushed that I "absolutely hands down without question must go see them".
So based on these amazing recommendations from the latest guys in the know, this is a no brainer yeah? But, this set-up shouldn't work. You're telling me the hardcore punk band The Bronx, have gone and done a mariachi-style 'spin-off'? In black and white, it reads like another 'side-project', destined only to be liked by a few dedicated fans. But, not only does this work, it's rather awesome.
The start of The Bronx's alter-ego didn't even start off as a drunken bet after too many tequila's. The story goes, that after ongoing requests from TV shows to do a stripped-down acoustic set, they decided to come back with something a little more south of the border. 
Tonight we are in for an airing of MEB's new studio album – Mariachi El Bronx II, released a few months ago. MEB II is a clearly evolved sound from their first release Mariachi El Bronx in 2009 (the band are well into eponymously naming stuff); with more intense arrangements, a matured sound and impactful, memorable lyrics. Taking inspiration from their LA roots whilst fully emerged and surrounded with Hispanic culture. They've mastered the music – this aint just another novelty mash-up. They're proper serious about this.
Having played the festival circuit a few years ago, this is their first, full-on UK tour, el Mariachi style, as part of the Vans Off The Wall tour, with support from Cursive's Tim Kasher. Tonight is my first time in this venue. Sound Control, once the UK largest musical instrument chains, closed its doors in 2008. Once upon a time all the cool kids in Manchester bought their music stuff here and now all the cool kids watch their fave bands here, and if that's not a nice recession story, I don't know what is.
It's packed, with lots of Bronx-esq punk fans here tonight. With just a simple MEB banner hung to the back of the stage, the lights dim and the familiar tinkering of a Mariachi band erupts the crowd. 7 men and 1 woman enter the stage in full Churro suits, minus the sombreros….and all of a sudden I'm in Mexico.
MEB head straight into 48 Roses, the first track off the new album, and whatever your preference of punk verses this direction; there's no mistaking this is an ace track; about a guy with too many ladies on his hands. Lead singer, Matt Caughthran transfers his melodic vocal breakdowns from many of a Bronx track – and hones it down to deliver swooning lyrics. The rest of the band display straight faces, with just the odd smirk coming from the violin dude, who twizzles his bows, majorette style. The crowd are awfully tame at this stage.
Next is Litigation, about "confessions of love". It is just full on Mexican. You can hear the overwhelming trademark Mariachi belting out.   Great Provider provides the perfect juxtaposition of a pure gorgeous genuine Mexican sound, with the vocals sung beautifully – by a punk with a skinhead.  Marry me now.  The violinist at the front is going hell for leather. The track gets a MASSIVE reaction from the sweaty crowd.
"You guys cool?" asks Matt as he swings a beer and laps up the crowd's attention.
Next we take "A trip to Armageddon" with Holy– it's got a killer intro. I'm transported into a desert, somewhere near the border, all covered in sweat and dust and….just watch the video.
The brass section at the back has turned into the percussion team, with trumpet man 1 scraping what looks like a shaved hedgehog.
With mucho banter, Matt bigs up the Mancs, "Feels so good to be BACK Manchester! You're so fucking cool to us" hinting at the next track Slave Labour – about "the bullshit in life you have to go through…" The brass section gets a little lively. If you've ever watched the The Bronx live, Matt's quite the energetic one on stage. He wraps this up tonight, and gently sways to the rhythm, with a cute, ongoing nod to the beat.
The band looks smart in their suits, all white piping and red handkerchiefs. They don't look uncomfortable, embarrassed or out of place.  Although, I'm half expecting them to break into The Bronx and rip them off, like they were joking all along.
Cell Mates is one of the first songs they wrote as MEB, its fun and it certainly isn't punk. MEB are not doing things by halves and just playing rehashed Bronx songs, Mariachi style – they've started from scratch. The audience response is overwhelming. The band all look pretty dam pleased that this gamble has paid off.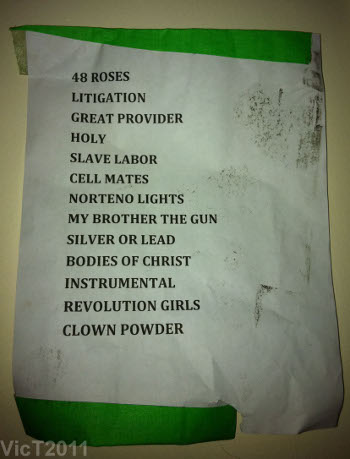 My Brother the Gun is a mellow tune, with the brass section standing out on all the right bits. Matt glides around the stage, as the violist does an incredible solo. The poignant and true gritty lyrics continue with Silver or Lead, "about the parallels in life", and again they've taken me to a thrilling down-town Mexican dream.
Bodies of Christ is one of the slower numbers that really tests the vocals- but doesn't shake him. An instrumental break, gives Matt a chance to thank the outstanding band. The sound is a tight as a nicely wrapped burrito.
Revolution Girls is a tribute "to Mexico, the greatest place on earth!" I and my fellow amigos in the audience break into a giddy dance.  The last track Clown Powder, is another tribute, this time to "all the Punks in the house who like the Bronx". He goads for more from the crowd, hits a monumental high note and puts his hands in the air for a venue-wide clap off. The band leaves the stage and after 5 long minutes of MEB chants, it's clear we're not going to get a re-visit.
Dear Mr The Bronx – this was the best idea EVER. What started out as a bit of an act of rebellion has clearly paid off. It has been an awesome night, full of energy and some top, expertly played instruments – to bring it as close to the authentic Mariachi sound as possible.
What's refreshing is that this isn't a Me First and The Gimmie Gimmie's style punk, covers band.  This Mariachi thing has just been natural process for them. It also makes me a little sad that the nearest England has to a national soundtrack is Morris dancing.
Do catch Mariachi El Bronx live, before they decide to hang up their suits and stick to their punk ways forever.
Hear the new album 'Mariachi El Bronx II' on Spotify and ITunes
The band continues their UK tour until the 29th November before heading across Europe. For the full list of venues and what not head over to MariachiElBronx.com
Tour dates and access to a free download can be found HERE