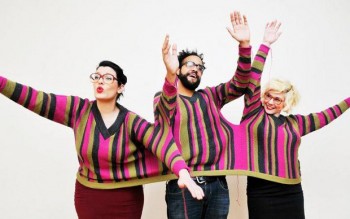 Looking delicious and sounding even more so, what more do you want from a band than watching them perform an unplugged, al fresco Will Smith melody, with a cello and glockenspiel? Ah…Pearl and the Beard you had me at 'Wicki-wild wild'.
But, NY City trio Pearl and the Beard are oh so much more than the quirky cover version doing the rounds on YouTube at the mo. Jocelyn Mackenzie, Emily Hope Price, and Jeremy Styles bring together the right side of whimsical, with gorgeous harmonies, tinkering melodies and beautiful folk-drenched lyrics of love and loss. I'm so happy they met.
Their latest release Killing The Darlings is receiving some well deserved kudos from big stateside press people including The Wall Street Journal and Nylon Magazine.
I grab a quick 5 minutes with the band before they embark on their debut UK tour (including a show at The Castle Hotel, Manchester on the 5th November); covering such bases as our mutual love of a good bit of facial hair and expensive, massive jumpers…..
Vic: You're a good looking bunch aint cha? 
Pearl and the Beard: Why yes we are. Grooming is important. 
V: Are you trying to be quirky or something? 
PATB: Are you trying to be quirky or something?
V: OMG how excited are you to be playing the UK for the first time like, ever? 
PATB: We are truly thrilled and honoured. This means a huge deal to us, and we're really looking forward to sharing our music in the motherland!
V: Is this your first time up North in Manchester? 
PATB: Yes, and we're super pumped. Can't wait to explore the town! 
V: You're playing The Castle on the 5th November. It's a top pub; a proper 'step back in time' boozer, and it's over 200 years old. What can we expect from your show? 
PATB: Expect lots of singing, lots of clapping, and 200 year-old walls crumbling down from the thunderous stomping of our treacherous feet.
V: Who's got the best beard you've ever seen? Mine's Sam Beam (Iron & Wine).
PATB: I'm quite partial to the sculpted beard of Elmar Weisser, a frequent champion of the World Beard and Moustache Championship http://www.bbc.co.uk/news/world-europe-13407712
V: On the front of your website you're all wearing a three-man, all-in-one jumper. Can you knit me one? 
PATB: If you want one, that'll be £1,000,000.00. That thing took me forever to make. 
V: I just want to bottle up your track 'Voice in My Throat' and take the lid off when I'm feeling all loved up…. 
PATB: Thank you! The story of this song was inspired by two lovers who are very much in love, but travelling along parallel paths that never seem to meet in the middle. They even live across different time zones, so that one's day is ending while the other's is beginning. It's about the sweet and bitter moments that define the reality of love. 
V: What's next in the magical world of Pearl and The Beard?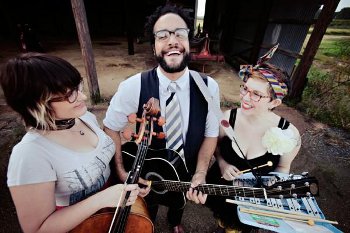 PATB: This December we'll be doing a tour around North East coast of the US, and then we'll be joining our Family Records label-mates at a Holiday Show at the Bowery Ballroom on the 15th December. After that, we'll take a holiday break followed by more touring, and hopefully a return to the UK sometime in 2012.
V: Take a look at this month's Manchester gig listings, tell me who you think I've just got to see and have a chat with. You very people will dictate who I go speak to next. Sort of a musical chain of love, but I haven't come up with a better name yet….
PATB: Absolutely hands down without question you must go see Mariachi El Bronx. They have an incredible sound and unstoppable energy. And for the more sultry-minded individual, St. Vincent is always a win. We also love Little Dragon, so definitely go see them too! Actually, you should see all of these bands.  
V: I love you guys. Group hug?
PATB: We love you, too. SQUEEEEEZE.
Go see Pearl and The Beard on their debut UK tour this month. Just 4-dates long, the Manchester gig is their only show outside of London. Sack off the scallies throwing rockets at each other and instead head down to The Castle Hotel, Manchester this Bonfire Night for an audience with Pearl and The Beard.
I'll be up front with my million-pound, knitted "I heart PATB" jumper on.
Hear more from this lovely lot at http://pearlandthebeard.com/, Spotify and itunes
UK Tour:
03. 11 Barfly London,
04. 11 St Pancras Parish Church (London),
05.11 The Castle (Manchester),
07.11 The Lexington (London)
httpv://www.youtube.com/watch?v=lnz0rhyLLKI