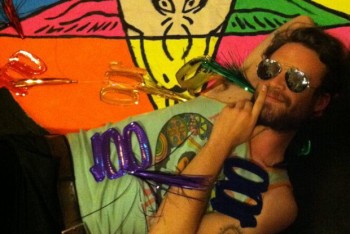 – THE DEAF INSTITUTE, MANCHESTER –
Tonight, Father John Misty, supported by No, is a sold-out show at The Deaf Institute, probably my favourite gig venue, and one whose glitter ball seems to have grown each time I visit. Either it's a trick of the mind or just maybe that mysterious sparkly sphere that ominously watches over us is feeding on any trouble-causers that might be present at shows.
Seeing bands that reside in such sunnier Californian climes as Laurel Canyon (FJM) and Echo Park (No) during the UK's cold, dark, late-autumn and winter, sometimes a road-weariness can be obvious on stage, but both groups of musicians seem in good spirits that are well aligned with a Friday night's weekend-is-here feeling in the crowd.
I notice that one of NO's T-shirts on the merch stand depicts the outline of a young woman's face, but instead of the usual facial features the outline is filled with "NO" in block letters, suggesting an interpretation of the band's name based on romantic rejection. But the band's music is not overly sensitive by any stretch; mostly it's brooding, bass-heavy and sometimes menacing. Clearly enjoying themselves up on stage, the five-piece bring to mind a friendlier Interpol.
Opening its set with 'Another Life', a tune given radio play by the likes of Zane Lowe, in No I also immediately recognise elements of The National, with the sound dominated by rich, baritone vocals and creative drums and percussion. The song features a rousing, wordless chorus as a kind of bridge in the middle, and afterwards the singer tells us that the band hails from LA and New Zealand. (Given that the band is clothed in all black garments, its member with overall wardrobe responsibility is more likely to be of NZ origin.)
My friend and I propose a handful of lookalikes for No's singer, and I decide that snooker's Ronnie O'Sullivan best fits the bill. Between songs, we are told that the band is hard to find on the internet and to search "@No" to find a free download of its recent EP Don't  Worry, You'll Be Here Forever. On record, the band is more eclectic, featuring some pop-chorus harmonies and electronica, as well as giving a decent representation of its live sound.
If No's singer recalls snooker's Ronnie, then FATHER JOHN MISTY's Joshua Tillman is a bit like tennis's John McEnroe, but in personality rather than appearance. Funny and supremely confident, he's exactly how I want a frontman to be for a Friday night's entertainment (although Tillman himself seems convinced it's Thursday). Touring with five other musicians, between songs Tillman addresses the audience in a kind of tongue-in-cheek antagonistic way, his eloquent remarks seemingly just being confrontational for kicks, and I like it.
Before opening song 'Fun Times in Babylon', Tillman tells us that there'll be "no razzle dazzle" tonight, "just some real shit from my heart to yours". In some ways, this first song of the set is autobiographical in that recently Tillman decided on a fresh start, heading south to live in the legendary, bohemian neighbourhood of Laurel Canyon in Hollywood, and adopting the Father John Misty moniker to release his LP Fear Fun (after seven previous LPs). Seattle Weekly awarded FJM's latest work the title of 2012's Best Psychedelic Bender, and Tillman himself has described Fear Fun as "weird-ass songs about weird-ass experiences". Make no mistake, though, Tillman's songs, like his interaction with the crowd, are borne of a razor-sharp mind. As he croons "look out, Hollywood, here I come", despite him travelling there to "smoke everything in sight", he's also gone there to document the area's seedier side, and maybe I've got him all wrong here, but I suspect that on arrival his first thought might have been to pull down his pants and stick his middle fingers up at the Hollywood sign.
Like Neil Young, Jim James or Robin Pecknold (of Tillman's former band Fleet Foxes; Tillman was the drummer), Tillman has one of those high, pure voices that seems to reach our ears with a keening clarity despite having travelled on a cool wind through the Great Plains. But his dancing and behaviour on stage are just as remarkable as his voice. Gyrating his hips and shaking his booty, he can be really quite feminine at times. During my favourite FJM song 'Only Son of the Ladiesman', as he sings the words "sequinned dress" Tillman slides his hands down his body seductively as if he's showing off an hourglass figure.
Then, in sharp contrast to this femininity, during the last song of the main set, 'Hollywood Forever Cemetery Sings' (my second favourite FJM song), Tillman orders the band to stop playing because a fight has broken out near the front of the crowd. With an intense stare that might burn holes through the thickest of skins, Tillman tells the bad eggs to "cut it the fuck out". They do, and at least one of the offenders leaves the room immediately, seemingly of his own accord, and therefore without any need for the glitter ball to swoop down and consume him.