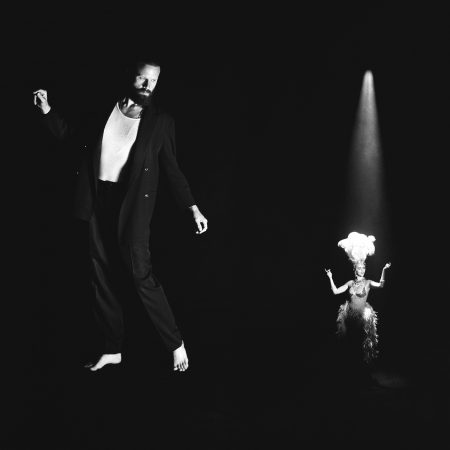 Music can delight for many reasons. Often it is not an entire song but an individual moment, be it the audacity of an instrumental flourish or the ecstasy of a vocal yelp. With Father John Misty, while the pleasure may come from the beauty of the song's orchestration and the early 1970s singer-songwriter melodies, it is every bit as likely to have been generated by the gasp-inducing, did-he-just-say-that lyrics. Frequently, that will be in the form of Josh Tillman's one or two-line zingers, such as "You're bent over the altar and the neighbours are complaining/That the misanthropes next door are probably conceiving a Damien" ('I Love You, Honeybear'). Occasionally, it will be a richly defiant verse, as with:
"Oh, their religions are the best
They worship themselves yet they're totally obsessed
With risen zombies, celestial virgins, magic tricks
These unbelievable outfits
And they get terribly upset
When you question their sacred texts
Written by woman-hating epileptics" ('Pure Comedy')
With his 5th album, 'Chloe and the Next 20th Century', the outstanding quality is its pure musicality and decadently drenched orchestration. It is an album that inspires the desire to conduct with an imaginary baton rather than play air guitar. Tillman's voice is at its cognac richest while his diction has a clarity that separates him from his peers.
Unusually, the album has two semi-title tracks, consisting of the opening and closing songs. 'Chloe' kicks off its shoes with piano, orchestration and the patter of brushed drums in an old studio era Hollywood musical style which is the album's predominant influence. While Tillman dials down his wise-guy persona a notch from earlier releases, the story could be taken from a Billy Wilder film, a dissection of contemporary mores in which the narrator samples the Benzedrine prescribed by an unscrupulous therapist to tackle the subject's shoplifting and has a hushed tragicomedy ending:
"Summer ended on the balcony
She put on Flight of the Valkyries
At her thirty first birthday party
Took a leap into the autumn leaves"
'Goodbye Mr Blue' tones down the orchestration and adds pedal steel while casting cheeky glances at both Elvis Costello's take on 'Good Year for the Roses' and Nilsson's 'Everybody's Talkin''.
The subdued mood continues with 'Kiss Me (I Loved You)', a comparatively straight-forward, restrained but sad love song which makes the heart swell even if "Our dream ended like dreams do". 'Everything But (Her Love)' all but dons elegant tops, tails, gloves and adds an element of John Barry to the mix.
'Buddy's Rendezvous' has a languid saxophone and downbeat piano accompanying another cinematic tale of an aspiring singer and a tragic ending, "Whatever happened to the girl I knew?/ In the wasteland come up short and end up on the news".
'Q4' throws not just the sink but the entire contents of a luxury kitchen into its gloriously lush orchestration while for the song's protagonist, "This ironic distance kept her sane" which feels like Tillman acknowledging the criticism of his knowing lyrics, especially on the 'Pure Comedy' and "I Love You, Honeybear" albums, where he adopted a Brechtian distance by providing mocking self-commentary.
'Olvidado (Otro Momento)' has a bossa nova air leading to the final salvo "All I want to say is words have failed me many times before/ But never so completely as with you".
The cinematic reference continues with 'Funny Girl' but fortunately has the elegance of Fred Astaire rather than Barbra Streisand with a subject who is "young but, baby, you're not getting younger" and who charms the pants off Letterman.
The gypsy waltz of 'Only A Fool' has Tillman indicating a willingness to commit to love while acknowledging: 
"The wisdom of the ages
From the Gita to Abraham
Was written by smitten, lonely sages
Too wise to ever take a chance
…But I couldn't fathom way back when
How I'd long to have you break my heart"

'We Could Be Strangers' matches creepy bass to dramatic orchestration, a counterpoint to a story which reaches the bleak conclusion that a fatal car automobile accident has saved the tale's stars from romantic disappointment.
Closing track, 'The Next 20th Century' appears to be reverting to old Tillman in its knotty narrative taking in a Nazi wedding band, the boondocks of Egypt and the nosebleeds at Calvary and Val Kilmer's full-length mirror before letting loose with a big guitar solo interspersed with maracas and orchestral stabs, although he concludes, "I don't know 'bout you/ But I'll take the love songs/ And the great distance that they came."
While he remains a brilliant lyrical enigma, the album allows Tillman the chance to indulge his soft-shoe shuffle rather than exercise his swivel hips and for his audience to swoon at exquisite orchestral arrangements.
Father John Misty: Chloe and The Next 20th Century – Out 8th April 2022 (Bella Union)