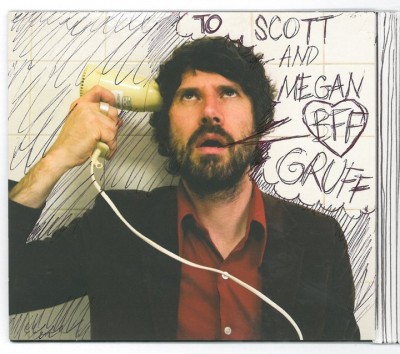 – WHITWORTH ART GALLERY, MANCHESTER –
The intellectual but cool surroundings of the Whitworth Art Gallery is the ideal place to host the original talents of Gruff Rhys. Front man of Super Furry Animals, Gruff has had a long and varied career; as a testament to his versatility, SFA started life as a techno outfit before becoming an experimental indie/psychedelic rock band releasing a string of critically acclaimed albums. In 2006, Rhys moved on to a side project Neon Neon, releasing a concept album with Boom Bip named Stainless Style, before striking out on his own as pure and simple Gruff Rhys, all projects have proved a success in their own way and attracted a large and loyal following.
He is playing to a sell out crowd, and there is a palpable sense of excitement, he enters to a large amount of applause. Quite a low- key kind of guy (he sounded stoned on 6music earlier that day) he does not say much, 'I am going to start with some miserable songs first'. One of which is from his film Seperado, in which he travels to Patagonia on a quest to find out more about his Argentinean, Welsh speaking uncle who starred in a 1970's TV series. Some songs he sings in Welsh, just noise to my English ears but no matter; his songs are still beautiful and original, notably the songs 'Softly Softly' and 'Digging For Treasure', lyrically fun diversion from the usual love and loss affair. He sings in a soft Welsh lilt but always hits the high notes displaying an impressive vocal range. In an aside to the audience he says that he has written his first song, which features the word 'Poland'. Never one to settle for a show featuring solely him, playing the guitar, he employs other tools, notably a metronome, which he places by a microphone to keep in time with the music. A move, which makes me wonder why I haven't seen it before considering its simplicity and effectiveness.
In a musical interlude he invites to the stage Manchester mover and shaker Andy Votel who runs the folk night B- Music at Chorlton bar Dulcimer. He also worked with Gruff on the 2010 track Shark Ridden Waters. No reference is made to the fact that the two worked together so it is left to the audience to deduce why he was on stage other than to host 'dysfunctional game show' 'Sitars in their Eyes' but as is the way with most things Gruff Rhys does, the overall feeling is to just go with it and your patience will be rewarded. Votel puts on interesting remixes of well- known songs with the audience guessing what the cover is. The atmosphere begins to feel like a Sunday night down at Dulcimers rather than a gig; it certainly provides an amusing interlude between songs and further testament to Gruff's awareness that despite the crowd's enthusiasm for him, two hours of a bloke, playing a guitar can be quite boring! In another kitsch move he holds 'applause' signs and 'woah' signs and there is canned laughter played at choice moments in the show. Also providing distraction is Votel's wife Jane Weaver who shares Gruff's talent for rare and powerful vocals, she plays a couple of songs, and as she is about to leave the stage, Votel clearly not one to miss out on a publicity opportunity shouts: 'When is your next gig?' 'Oh' she says 'Dulcimer on the 6th December, definitely a gig for the diary.
As I have found out there are music geeks and then there are music geeks, people who know how music is made. I am not a music geek so it is up to my companion to tell me that Gruff is using a four track to loop the sound of him screaming in to a microphone like a crazed baby and making bird noises all of which build to a strange yet beautiful crescendo and then suddenly stop. This is the beginning of an experimental phrase in the gig where Gruff strays away from the man/guitar combo and begins to make electronic music right in front of us. The product is a slightly ramshackle display which occasionally falters as he tries to juggle the noises coming from the assortment of drum machines, four tracks, pedals, guitars and glow in the dark keyboards. At one point the drum machine breaks and he has to employ some 'incidental music' while he fiddles around with various bits of machinery on the stage. It becomes clear that this is organised chaos, which seems to sum up his approach to music; it is worth embracing the chaos in order to get a fuller picture of how music is made and therefore gain a more satisfying and fulfilling experience. Sometimes, someone making mistakes and having fun in front of an audience is better than a polished performance.
At the encore, he invites an entire band on stage, the fact that effort has been made to set up and bring an entire band on tour, for one song, shows that Gruff puts every ounce of effort in to shows that burst with energy and creativity. As he leaves the stage, he holds his applause sign one last time, not that he needs to; the crowd put their hands together gladly for a man who has entertained them for many years.
After the show we bump in to a female friend full of praise for his music but equally the man: 'Oh he is handsome isn't he?' I have no choice to agree so it seems Gruff is talented and handsome. What more could you ask for?