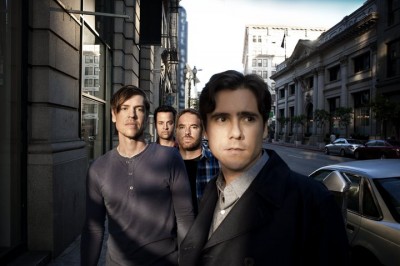 – ACADEMY 1, MANCHESTER –
Bands move on and evolve, it's an essential component in keeping things fresh for both group and fans alike, but rarely has any outfit hairpinned quite as much as Seattle quintet, Minus The Bear. Long gone are the jerky melodies and mathy rhythms of their 'High Refined Pirates' début, replaced instead by a more sedate, obvious take on indie-rock which suffers from a dispiriting lack of invention.
Dave Knudsen – doused in so much sweat by the end of the set that it looks like he's washed his shirt in a sink full of pots – is a great guitarist, but doesn't show it nearly often enough, and while his trademark tapping style had been hijacked by numerous lesser lights over the years, it's a shame that he's reigned in his dancing fingers.
The luscious 'Pachuca Sunrise' puts a welcome dollop of polish onto the end of proceedings, but for the most part, it's more a case of Minus The Songs.
A frisky fire alarm breaks up the usual changeover tedium, and the venue rises as one in appreciation when its incessant wailing is finally extinguished. That's nothing, however, compared to the sheer rapture with which Jimmy Eat World are greeted, the long-sold out crowd lurching inexorably forward on every syllable of the untoppable opening gambit of 'Bleed American' and 'A Praise Chorus'.
The Arizona four-piece's everyman image has always cultivated the notion that (horror of horrors) the songs speak for themselves without being encumbered by fancy fringes and their accompanying hair-straighteners, yet their latest offering, Invented, is over-produced, underwhelming, and chocka-block with mid-paced drudgery. As far as high points go, Movielike, surely just a decent album track on any of their other LPs, is a new low.
Still, they'd have an immense greatest hits album, and of the 23 tracks aired tonight, the choppy 'Futures,' contagious 'Big Casino' and proper old-skool emo ballad that is 'For Me This Is Heaven,' the latter lifted from 1999′s Clarity album, would all be proudly present and correct.
Gentle-voiced frontman, Jim Adkins, is caught in the glare of a dappled light from the right that gives him the appearance of a giant radioactive wasp, while bassist, Rich Burch is yet another person our esteemed Gigs Ed, Joss Worthington, can add to his "apparently, I look a bit like him" list.
Jimmy Eat World are generally at their best when tossing out sprightly anthems, but do tread dangerously close to straying into latter-day Aerosmith territory such is their propensity for slowing things down and getting all earnest on us. Then again, when you can send people home after saving 'The Middle' and the psychotically catchy 'Sweetness' – essentially two choruses melted together which makes anything off Slippery When Wet sound like Throbbing Gristle – until last, then you're always going to be onto a winner.