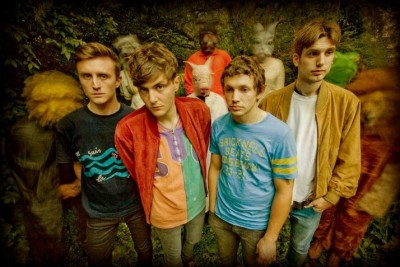 – ACADEMY 2, MANCHESTER –
Taking to the stage amongst an ear bleeding drone of distortion and feedback, the band storm into insanely catchy track, 'Ode To Joy', before their debut single 'Fruits' explodes into its short lived and extremely angry little life. Singer, Merrick 'Mez' Green puts 100% in every jolt of the body and every spat out lyric, screaming with all the punk rock gusto of a young Mark E Smith, while guitarist Nick Boden frantically attacks his guitar strings like Thurston Moore – occasionally leaping around the stage, Johnny Ramone style.
The intensity in the live performance increases with each song performed – punk rock energy flowing throughout their blistering set. The Neat really mean it, man!
Standout tracks include 'In Youth Is Pleasure', forthcoming single, 'Hips' and it's excellent B-side, 'Counteract', which could easily be a single in its own right.
Tonight, The Neat encapsulate the ideal support band experience; the one where you find yourself singing along to songs you've never heard before simply due to their melodic appeal. With their fast, post-punk sound, The Neat are clearly genres apart from headline act, Frightened Rabbit, but they still manage to somehow grab the attention of a crowd waiting to hear Scottish indie-folk.
It is clearly evident that this Hull based band are meant for big things in 2011, they are currently signed to Independent record label Chewing Gum (owned by Kaiser Chiefs drummer Nick Hodgson) and its just a matter of time before the major labels wake up and start to smell the punk rock spirit of The Neat
The Neat are a breath of fresh air in a world full of watered down, formulaic, radio friendly rock.